DePauw Announces National eLearning Center
March 16, 2001
Also:
[DOWNLOAD VIDEO: "Video News Release" 1427KB]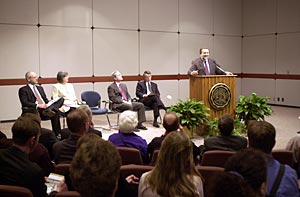 March 16, 2001, Greencastle, Ind. -
[DOWNLOAD VIDEO: "The Announcement" 223KB]
[DOWNLOAD VIDEO: "Video News Release 320 x 240" 4158KB] DePauw University announced today the creation of a national eLearning center on its campus, a first of its kind model for learning using technology to enhance liberal arts education. Lilly Endowment Inc. has awarded a $20 million grant to DePauw to support this new educational initiative which links traditional liberal arts with the need for new world skills.
"We see great potential in DePauw's new center; not only for what it will do for learning at DePauw, but also for the impact it will have on Indiana's educational and business environments," said Lilly Endowment President N. Clay Robbins at a news conference at DePauw. He also noted the potential positive effects the project's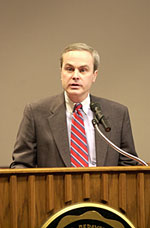 [DOWNLOAD VIDEO: "High Quality Internships" 262KB]
[DOWNLOAD AUDIO: " Grant Announcement " 186KB] "high quality internships" will have on Indiana's economy.
Robbins was joined by DePauw President Robert G. Bottoms; Scott Jones, chairman of the Indiana Technology Partnership; David Becker, founder of Virtual Financial Services and First Internet Bank of Indiana; and Jo Ellen Parker, president of the Great Lakes Colleges Association (GLCA) and Sara Cobb, vice president for education at the Endowment.
eLearning represents use of computers, the Internet, digital video, and multimedia presentations by students and faculty members both in the classroom and in out of class work for enhanced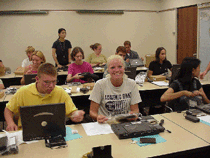 teaching and learning. The concept of eLearning suggests an exciting range of new educational experiences, from nearly instant information access and retrieval, in any learning setting, from sources all over the world, to new technological and interactive methods of class presentations and student faculty and student student interactions. eLearning experiences will give students skills and languages that will prepare them to live and work in an increasingly technological and electronically rich marketplace.
[DOWNLOAD VIDEO: "DePauw's Uniqueness" 207KB]
[DOWNLOAD VIDEO: "Ground Running" 171KB]
[DOWNLOAD AUDIO: "Ground Running" 122KB] According to Becker, "The new center will give these well equipped grads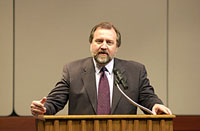 a combination that is in short supply reasoning and writing skills with technological knowledge."
The implications of this gift extend beyond DePauw, which is ranked in the top tier of national liberal arts colleges by U.S. News & World Report. The center will enhance the quality of instruction at other liberal arts colleges by providing a hands on place where educators from across the country can learn the latest methods to
improve teaching through technology.
[DOWNLOAD VIDEO: "Setting an Example" 236KB]
[DOWNLOAD VIDEO: "Outreach" 156KB]
[DOWNLOAD AUDIO: "Outreach" 109KB] "GLCA intends to encourage its member institutions to visit DePauw and learn from this exciting new model of how liberal arts schools can incorporate technology in their teaching," noted Parker. "The outreach potential is significant."
The center also will improve the climate for high tech businesses in Indiana by providing for more in state internships and job opportunities for students and graduates and enhancing the role technology plays in the state's daily life. The center will offer at least 100 internships with Indiana high tech businesses each year. "These internships further the Endowment's efforts to address Indiana's critical shortage of college educated residents. They should result in more college graduates staying in Indiana with good jobs," said Cobb.
"The Endowment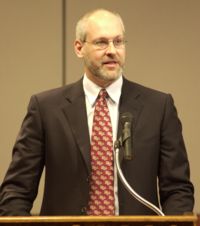 also is pleased with the planned national profile for the center," she added. "The center's talented national advisory board should position it to be a prominent national leader in ensuring that a liberal arts education is relevant to success in the business and professional worlds."
[DOWNLOAD VIDEO: "Silicon Greencastle?" 368KB]
[DOWNLOAD VIDEO: "DePauw Quality" 308KB]
[DOWNLOAD AUDIO: " DePauw Quality" 218KB] Jones says he is "excited to have graduates of this educational institution coming to work for me at my company. And I know that the new companies that are being developed and formed in Indiana will welcome the graduates from this institution."
The Endowment gift will allow half of DePauw's classrooms to become technology enabled, up from about one sixth now. The core of the center, however, will be the creation of a new paradigm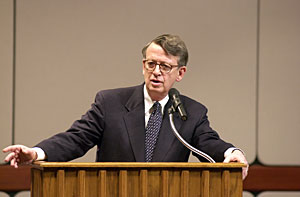 for liberal arts learning, "DePauw graduates have extraordinary reading, writing and quantitative skills a skill set that has created generations of uncommon leaders," Bottoms said. "An eLearning center that is national in scope will provide new opportunities for students to learn and achieve while not compromising the foundation of a traditional DePauw education."
Unlike "distance learning" programs at many universities, the eLearning center will enhance face to face, person to person learning in a residential campus setting.
The Endowment grant will also support the expansion of a current DePauw program called Faculty Instructional Technology Support (FITS), which helps faculty enhance their teaching through technology.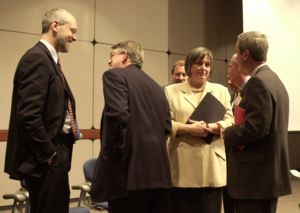 With the center on campus, that training can now include many more DePauw faculty, and faculty members from other colleges and universities will be invited for training workshops. The new center will also bring leaders, educators and ideas to Indiana by offering national symposia on how technology can enhance curriculum.
"Indiana certainly needs more places that radiate intellectual energy to generate innovations essential to the personal, civic and economic futures of its citizens," Robbins said. "The Endowment believes that DePauw's eLearning center will be such a place."
Back