New Firetruck Provides Enhanced Protection for DePauw & Greencastle
May 10, 2001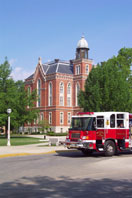 May 10, 2001, Greencastle, Ind. - A new, $320,000 fire pumper, purchased through the generosity of DePauw University, four Greencastle industries, Greencastle's Township Trustee and advisory board, and the City of Greencastle, is now in service. The truck, which has been in Greencastle for a little more than a week, was brought to the DePauw campus this morning. Greencastle Fire Chief Bill Newgent was on hand to provide what amounted to show-and-tell to DePauw University President Robert G. Bottoms, DePauw Vice President for Finance and Administration Richard Speller, DePauw Director of Human Resources Paul Schmitt, and Greencastle Mayor Nancy Michael.
The new Pierce Quantum pumper has a six-man cab and 1,000-gallon tank. DePauw and local businesses Lone Star Industries, North American Capacitor Company, Heartland Automotive and Happico combined to raise $100,000, or almost a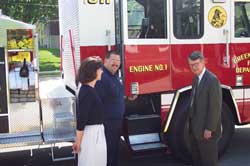 third of the price of the new truck. The largest share, more than $85,000, is from DePauw. "This is an investment in the safety of our students, faculty and staff, and a way to stress that DePauw is committed to maintaining the vitality of the greater Greencastle community," said Bottoms.
Chief Newgent offered, "The technology that comes with this truck makes our job so much easier. We replaced a 1976 truck that did not meet current standards with a pumper that will greatly enhance our firefighting efforts and our department's morale. It's a great added feature for our community," added Newgent.
The Greencastle Fire Department has 14 firefighters and 12 reserves. Mayor Nancy Michael says the purchase of the new truck gives those professionals the latest tools to work with. "It keeps our equipment up to date and at levels where we can provide the maximum p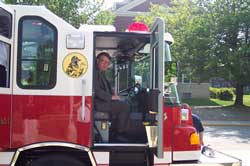 rotection to residents," she said.
Greencastle Township Trustee Thelma Bumgardner, along with the Township Board of Trustees, contributed $100,000 toward the new truck. The remaining balance of $120,000 came from the City of Greencastle cumulative fire fund.
The new truck replaces a 25-year-old green Ward LaFrance pumper that has been donated to the Putnamville Correctional Facility fire department. Equipment from the retired truck was given to the Van Bibber Lake volunteers.
Back