Former British Prime Minister John Major to Deliver Ubben Lecture October 29th
October 5, 2001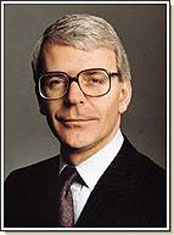 October 5, 2001, Greencastle, Ind. - John Major, the former Prime Minister of Great Britain, and President George H.W. Bush's partner in the Persian Gulf War, will deliver The Timothy and Sharon Ubben Lecture on the campus of DePauw University, Monday, October 29. Major's address, "The Changing World," will be presented at 7:30 p.m. in Kresge Auditorium of the Performing Arts Center.
Born in a working class neighborhood in southern London, John Major was raised in a two room apartment. "It has been of immense value to me to have been on the other side of the fence and know what it is to face difficulties, and I don't regret any of that," he has said.
Mr. Major's political career began at age 16, when he joined the Young Conservatives. In 1968, he won a local election. Eleven years later, he was elected to a Conservative seat in Parliament. On November 28, 1990, at age 47, John Major became Britain's Prime Minister. In the following year, Major gave full support to the United States in the Persian Gulf War.
The British commitment to the Gulf War was second in size only to America's.
An ABC News.com biography of John Major states, "it was on his watch that Britain's economy improved and became the envy of continental Europe. Unemployment went down and production went up. That was not enough, however, to save him from a country tired of years of conservative leadership." When Major left office on May 1, 1997, London's Daily Telegraph observed that "John Major leaves a richer legacy than any of his predecessors."
John Major retired as a member of the House of Commons in May. He continues to serve as chairman of the Council of the Ditchley Foundation of the International Advisory Boards of the Peres Center for Peace in Israel, the InterAction Council in Tokyo and the Baker Institute in Houston. He has a number of business interests, as chairman of the European Board of the Washington, D.C.-based Carlyle Group; senior adviser to Credit Suisse First Boston; chairman of the European Advisory Council of St. Louis' Emerson Electric Company; and a member of the board of directors of Mayflower Corporation. Mr. Major is also active in a number of charities, and serves as president of the National Asthma Campaign. On the death of Diana, Princess of Wales, John Major was appointed legal guardian to her sons, Princes William and Harry.
John Major's DePauw speech is free and open to the public.
Members of the news media with questions about coverage and availabilities should contact Ken Owen, director of media relations, at (765) 658-4634.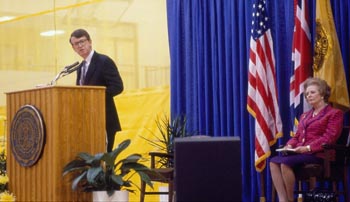 Established in 1986 through the generous support of 1958 DePauw graduates Timothy H. and Sharon Williams Ubben, the Ubben Lecture Series is designed to "bring the world to Greencastle." Previous guests have included Margaret Thatcher (seen in photo at left; April 7, 1992), Gen. Colin Powell, Shimon Peres and Benazir Bhutto.
To view a complete roster of Ubben Lecturers -- which includes links to video clips and news stories -- click here.
Back