Three Free Concerts on This Week's Calendar
November 5, 2001

November 5, 2001, Greencastle, Ind. - The DePauw University School of Music hosts three concerts between now and Saturday, November 10, starting on Wednesday evening, November 7, when the DePauw Faculty Jazz Ensemble performs on the Kresge Auditorium stage at 7:30 p.m. Members of the ensemble include two new School of Music faculty members and include Steve Hanna, drums; Randy Salman, saxophone; Eric Sayer, bass; Brent Wallarab, trombone; Gary Walters, piano; and Larry Wiseman, trumpet. Those attending the concert will be seated on stage with the performers.
On Friday, November 9, the annual Monon Bell Concert will take place in Thompson Recital Hall at 7:30 p.m. This annual choral concert alternates sites between DePauw University and Wabash College, and this year the DePauw Choir and Century Singers host the Wabash College Glee Club in an evening of choral music.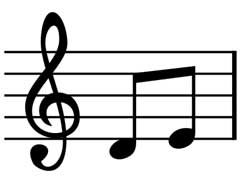 On Saturday evening, November 10, at 7:30 p.m. in Thompson Recital Hall, the School of Music presents its first senior recital of the year when flutist Aimee Marschand performs.
All of the above events are free and open to the public.
Back