Fortune Names Vernon Jordan '57 One of America's Most Powerful Black Executives
July 19, 2002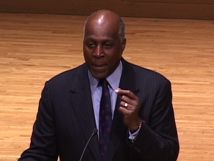 July 19, 2002, Greencastle, Ind. - The new issue of Fortune magazine lists legendary civil rights and political leader Vernon E. Jordan, Jr., a 1957 graduate of DePauw University, as the ninth most powerful black executive in America. Of Jordan, senior managing director at Lazard LLC, Fortune writes, "This powerful attorney and former advisor to President Clinton has long brought high-level Washington-style power brokering to the top tiers of the Fortune 500. In 1999, Lazard, eager to reestablish itself in the M&A world, recruited the impeccably connected Jordan to the investment bank. A consummate networker and corporate statesman, he sits on a dozen corporate and nonprofit boards, including those of Dow Jones, American Express, and Xerox. He is rumored to have had a direct hand in boosting the candidacy of No. 2 Kenneth Chenault as CEO of American Express."
The list of the "50 Most Powerful Black Executives in America," Fortune writes in its July 22 issue, "can be seen as a celebration of what's been achieved by finally reaching the corner office-- and an acknowledgment of how far there is still left to go." You can view the full list by clicking here. The profile of Mr. Jordan can be accessed here.
Vernon Jordan also served as president of the National Urban League and in 2001, marked the release of his memoir Vernon Can Read! with a speech at DePauw's Old Gold Convocation on October 27, 2001,
in which he spoke of his days as a student in Greencastle, of how "DePauw has become a different and better place," and he discussed his life in the civil rights movement and the terrorist attacks on America that had recently taken place. You can access a story, complete with video and audio clips of Jordan's speech, by clicking here.
In July 2001, Mr. Jordan was the recipient of the National Association for the Advancement of Colored People's Spingarn Medal, the NAACP's highest honor for achievement. Video, audio and text of his acceptance speech are available here.
Back