DePauw Basketball Players Breakfast with Coach K; TV & Newspaper Cover His Campus Visit
September 13, 2002
Also: Coach K's Ubben Lecture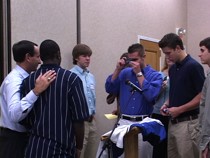 September 13, 2002, Greencastle, Ind. - As Duke University basketball coach Mike Krzyzewski met with DePauw University's men's and women's basketball teams this morning, a story in the Indianapolis Star reported, "While many factors are involved in Duke's continued dominance, Krzyzewski championed a rarely known aspect Thursday: believing in the 'fist'."
The article by Jeff Rabjohns continues, "Krzyzewski, at DePauw University to speak as part of the school's Ubben lecture series, said a fist is a symbol of five elements needed for success: Communication, trust, collective responsibility, care and -- as a result of the first four -- pride. The idea of the fist is the reason the Blue Devils put their fists together after a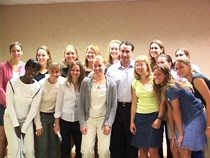 huddle instead of the traditional way of everyone putting in an open hand. 'It's not 'her' way or 'my' way,' Krzyzewski said midway through his speech at the Kresge Auditorium. 'It's 'our' way.'"
The Star story also notes that "This morning Krzyzewski will have breakfast with the DePauw men's and women's basketball teams [photo at right shows Krzyzewski with women's team at the breakfast in the Union Building]. Both squads reached the NCAA Division III Elite Eight last season. Only DePauw, Oklahoma and Connecticut had both squads reach the national quarterfinals."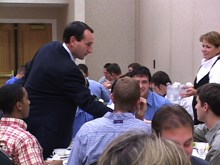 You can read the article in its entirety at the newspaper's Web site by clicking here.
At the breakfast, the man known as "Coach K" went from table to table shaking hands, offered some thoughts for the two teams on achieving and maintaining success on and off the basketball court, fielded questions from the DePauw student-athletes, and spent about twenty minutes signing autographs and posing for photographs. Krzyzewski commended both teams on their historic seasons, and told them of the dangers of resting on laurels and losing sight of the importance of hard work.
"Forget last year," he said. "Throw yourself into the new season because what you did is done. What you can do is out there for you to grab, if you want to work for it."
The Hall of Fame coach also told the students that

[DOWNLOAD AUDIO: "Coach K at Breakfast" 655KB] he knew a lot about DePauw before arriving Thursday for his Ubben Lecture. Krzyzewski has friends who attended DePauw and had received "advance billing of how good it would feel and how good it would be," but says "it really exceeded my expectations. It's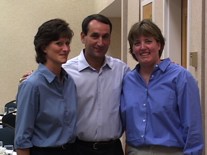 kind of like when you go out recruiting, you hear someone's gonna be really good [but] they're bad... Last night was one of those recruiting trips where you wind up saying, 'This kid's not only good, he's gonna be a star.' And that's my impression of your school and your student body. I love energy, and certainly last night I was treated [to] great energy. I felt like I was walking out onto the court at Cameron Indoor Stadium [Duke's home floor]." (photo at left shows l-r: DePauw head women's basketball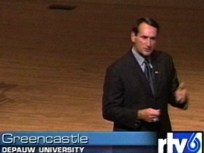 coach Kris Huffman, Mike Krzyzewski and DePauw assistant women's coach Mary Smith)
Indianapolis ABC affiliate WRTV covered Mike Krzyzewski's Ubben Lecture, noting that "Coach K stopped by to talk with [DePauw] students."

[DOWNLOAD VIDEO: "See WRTV Clip" 1600KB]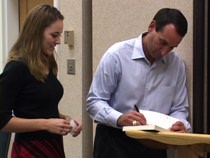 The Ubben Lecture Series has brought prominent individuals from around the world to DePauw University since 1986, including former British Prime Ministers Margaret Thatcher and John Major, entertainer and human rights activist Harry Belafonte, ABC News' Sam Donaldson and former Israeli Prime Minister Shimon Peres, to name a few.
You can view a complete list of Ubben Lecturers, with links to text, audio and video, by clicking here.
Back