You're Invited to Dedication Concert for DePauw's New Organ, April 24th
April 18, 2003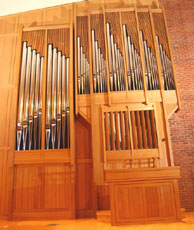 April 18, 2003, Greencastle, Ind. - Through a generous gift by the family of J. Stanford Smith, a 1936 DePauw University graduate, DePauw's first-ever large concert organ has been installed in the Performing Arts Center's Kresge Auditorium. The instrument, designed and built by Hellmuth Wolff & Associates of Quebec, will greatly expand the music programming offered at DePauw and enhance the teaching and learning of organ performance. A special dedication concert for the J. Stanford Smith Concert Organ is scheduled on Thursday, April 24 at 8 p.m. in Kresge Auditorium. The concert is open and free to the public, and the community is encouraged to attend.
Carla G. Edwards, University organist and associate professor of organ and music theory, is coordinating the dedication program and will perform the program featuring works by Marcel Dupré, Vincent Lubeck, Johann Sebastian Bach, Timothy Tikker, Maurice Duruflé, Libby Larsen, Van Denman Thompson and Louis Vierne. Van Denman Thompson was the legendary University organist, teacher of organ and composer at DePauw from 1911 to 1956.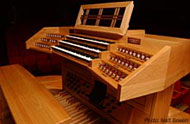 There have been only three University organists in DePauw's history. Following Thompson was Arthur D. Carkeek from 1956 to 1988, and Edwards has served as organist since then.
"Because it is the first large concert organ we've had in the Performing Arts Center, it's really important in terms of teaching and recruiting organ students," Edwards said. "The J. Stanford Smith Concert Organ will be a wonderful recital instrument for students, faculty and guests. There will be many opportunities for collaborative works –- such as large choral and organ performances or large orchestra and organ performances –- which we've never been able to do before."
Guest artists, including three DePauw alumni, are scheduled to perform a series of organ dedication events during the 2003-04 academic year. The events include:
Jason A. Asbury, a 1995 graduate who is a concert organist, conductor and choral accompanist in the New York City metropolitan area and a faculty member at St. Ann's School in Brooklyn Heights, N.Y., on September 7, 2003.
Ted A. Gibboney, a 1976 graduate and director of chapel music and arts programming at Christian Theological Seminary of Indianapolis, on October 12, 2003.
Margaret McElwain Kemper, a 1960 graduate who is associate professor and coordinator of organ and church music studies at Northwestern University, on February 6, 2004.
Peter Planyavsky, internationally renowned organist from Vienna, from March 5-6, 2004. Planyavasky also will conduct master classes for students.
The new organ also will be highlighted during the All-Alumni Celebration of Alumni Reunion Weekend on Saturday, June 7.
J. Stanford Smith was a Rector Scholar and graduated magna cum laude in 1936 with a major in economics and a Phi Beta Kappa key. Following graduation, he worked at General Electric for 37 years. In 1973 he became chairman and CEO of International Paper Company, and retired in 1980. Smith then served as an executive-in-residence at Cornell University Business School. He served on the boards of directors of Chase Manhattan Bank, Eli Lilly and Company, General Motors and International Paper. He was a member of the DePauw Board of Trustees and was chairman at the time of his death in 1983. In recognition of his achievements and service to the University, DePauw awarded him the Old Gold Goblet and an honorary doctorate.
University Organist Carla Edwards has performed extensively throughout the United States, and her performances were broadcast on a nationally syndicated radio program, Pipedreams.
Edwards has been the convention artist at American Guild of Organists conventions, and she performed 12 concerts on a tour of Finland. She won the Region V, American Guild of Organists Competition in 1985 and was a finalist in the 1986 National AGO Competition. Edwards recently recorded two CDs of organ music.
Back