Jason Asbury '95 to Perform Organ Recital September 7
August 31, 2003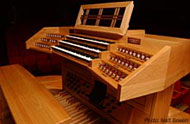 August 31, 2003, Greencastle, Ind. - Jason A. Asbury, a 1995 graduate of DePauw University, will return to his alma mater to perform an organ recital at the Performing Arts Center on Sunday, September 7. The concert begins at 3 p.m. and admission is free. Asbury will be performing a wide range of French and German works, ranging from the 17th to the 21st century, on the recently installed large concert organ in the auditorium.
The son of Norma and Allen Asbury, Jason Asbury showed interest in music, particularly piano and organ, as a young child. He began regularly playing piano at the age of seven, and started taking organ lessons with Professor Carla Edwards at DePauw University during high school. While attending South Putnam High School, he played piano and was drum major in the marching band. He was also active with the Putnam County Playhouse and the Putnam County Foundation, where he started the first endowment for the arts.
In addition, Asbury was an organist for the First Christian Church and St. Paul the Apostle Catholic Church in Greencastle. He attended DePauw University and received his Bachelor of Music degree in organ performance from the School of Music in 1995.
Currently, Asbury is an active concert organist, conductor and choral accompanist in the New York City metropolitan area. He is a member of the faculty at St. Ann's School in Brooklyn Heights, New York and is also director of music at Prospect Presbyterian Church in Maplewood, New Jersey. He has performed as a solo recitalist in many venues including St. Patrick's Cathedral and Cathedral of St. John the Divine in New York City, Princeton University Chapel and Augustinerkirche in Vienna. He recently debuted as a choral accompanist at Lincoln Center with the National Chorale at Avery Fischer Hall and has also performed with the American Boychoir, Westminster Choir College Schola Cantorum,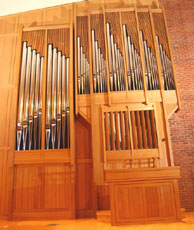 the DePauw University Concert Choir, Rutgers University Concert Choir, Brooklyn Youth Chorus and the Children's Aid Society Chorus of New York City. Asbury is the co-founder and conductor of Voices in Harmony, a 150-member choral ensemble based in New Jersey, which strives to bring people from multicultural and ecumenical backgrounds together and promote community awareness.
"I am truly honored and excited to be returning to my hometown to play on such a world-class instrument," said Asbury. The concert will last about an hour and a half, with a short intermission.
For more information about this event or other upcoming School of Music events, call (765) 658-4379 or click here.
Back