Coach Nick's "Final Bell" Subject of TV Report & Magazine Article
November 11, 2003
November 11, 2003, Greencastle, Ind. -
[DOWNLOAD VIDEO: "The Final Bell" 961KB] "After 23 years at DePauw University the sun is about to set on the coaching career of Nick Mourouzis," begins a story that aired on Indianapolis NBC affiliate WTHR tonight. "Coach Nick," DePauw's all-time football wins leader with 138, tells reporter Rich Nye, "The season's gone by in a hurry, I'm gonna say that. Just like the seniors, [Saturday's game is] their last hurrah, and that's basically how I approach it." The Tigers face arch-rival Wabash College Saturday at Blackstock Stadium in the 110th battle for the Monon Bell. The game sold out in two days time (read more here).
An assistant coach at several colleges -- including Miami (Ohio), Indiana and Northwestern, since 1959, Mourouzis
[DOWNLOAD VIDEO: "Student-Athletes" 738KB] "came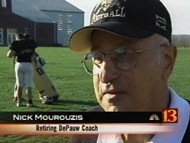 to Greencastle for his first head coaching job in '81," Nye reports. "He found the perfect fit at DePauw, with no athletic scholarships." Mourouzis says, "They're very sharp young men, intelligent, and you don't have to wake 'em up to go to class, so to speak. They're self-motivated, that's #1. They're great young men and they love the game of football."
DePauw senior Ross Sandefer tells of the coach's enthusiasm, and senior David Blackburn notes Mourouzis' emotion. "He'll cry, but you don't know whether he's mad or he's happy... he's that passionate about everything."
The more than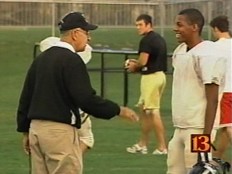 two minute story also includes footage of Mourouzis' first Bell game in 1981, "no question one of the greatest games I've ever been involved in." Nye adds,
[DOWNLOAD VIDEO: "Memories" 789KB]"But mostly he'll remember the young men he coached." "The notes that you get back from former players put some tears in your eyes, you know. You realize that you had an effect in their lives," Mourouzis says. "More lives touched, and more games won than any coach in DePauw football history," Nye concludes.
The November issue of Indy Men's magazine also contains a lengthy feature on the Monon Bell. Ryan Whirty extols the virtues of "Division III football, where athletic scholarships are forbidden, the national title game isn't sponsored by Tostitos or FedEx or Nokia, and the players actually give a damn about their classes." The article quotes Mourouzis, "Everyone plays for the love of the game. I always wondered how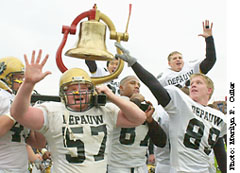 many Division I players with athletic scholarships would still participate if they had no athletic scholarship."
The story suggests the heated Monon Bell rivalry is one of the nation's best. "Just ask Mourouzis, who, as an assistant to former IU coach John Pont for eight years, witnessed the IU-Purdue series up close but still thinks the annual Wabash-DePauw contest is easily the equal of any battle over the Old Oaken Bucket. 'The Monon Bell game,' he says simply, 'is as intense as any major-college rivalry there is.'"
You can visit Indy Men's magazine's Web site by clicking here.
Source: WTHR (NBC)/Indianapolis
Back