Fourth Building in Rector Village, Leis Hall, is Named
November 19, 2003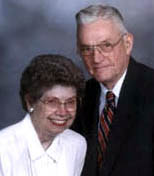 November 19, 2003, Greencastle, Ind. - Feeling indebted to DePauw University for the great education they received, Chuck and Marilyn (Newpart) Leis, both members of the Class of 1952, are the fourth alumni family to make a gift to name a residence hall in the new Rector Village. They made the decision after visiting campus during Old Gold Weekend, October 31- November 1. "We have a deep-seated feeling toward DePauw. We both had a good experience, and we want other students to benefit from the experience," Chuck Leis, CEO of A.F. Leis Company in Vandalia, Ohio, said. "We think the future for DePauw is unbelievably good."
Located east of an existing residence hall, Mason Hall, and scheduled for completion in 2004, the three-story brick residence hall will house 24 students in private rooms and will feature common kitchen and living areas.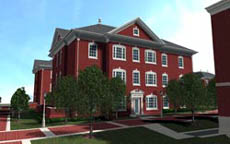 Rector Village, a complex of seven town-home style residence halls, is being constructed on the former site of Rector Hall, which was destroyed by fire on April 7, 2002. Only three of the residence halls remain to be named.
Marilyn Leis lived in Rector Hall during her freshman year. Although there is a certain amount of sentimentality in their gift, the alumni couple's gift really reflects their longstanding respect for the University. Four years ago they established the Leis Scholarship, a merit scholarship, to help deserving students receive a higher education at DePauw. "DePauw has improved so much since we were students, but to run an institution like DePauw, it takes a lot of money," Chuck Leis said.
Most financial aid is based on need, but we wanted to base our scholarship on merit, regardless of need."
An economics major and member of Lambda Chi fraternity at DePauw, Chuck Leis began work at General Electric in Schenectady, N.Y., following graduation. After being drafted and serving in the Army, he joined A.F. Leis, a contract manufacturer of medical equipment, in 1954. He has served DePauw as a member of the Alumni Board of Directors and the Board of Visitors.
After meeting at DePauw, Chuck and Marilyn, a home economics major and member of Alpha Chi Omega sorority, were married during the summer prior to their senior year. They lived in the "Quonset huts" housing for married students located near Bishop Roberts Hall. Marilyn worked as a secretary to the University's then-director of admission, Willard Umbreit.
That experience "helped make DePauw very close to us," according to Marilyn. Marilyn was a member of the first Washington C. DePauw Society Executive Committee. She and her husband have been hosts for several WCDPS events for Dayton area alumni.
The Leis' have two children, both of whom graduated from DePauw: Nancy Leis Kota '76 and Susan Leis Thiele '79. A grandson, Christopher H. Thiele, is a sophomore at DePauw. Other family members who are alumni are Marilyn's brother, James R. Newpart '59, and his wife, Myrna McGreevy Newpart '59,
J. Gilbert and Louella Reese of Granville, Ohio, and their five children who attended DePauw, contributed funds for Rector Village's center building, Reese Hall. Two other residence halls have been named by Ronald K. Holmberg '54 and Cynthia Brooks Holmberg '56, and Jane (Leahy '54) and Richard A. Warne '54.
You can read more about Rector Village by clicking here. Read about the naming of Reese Hall here, Holmberg Hall here, and Warne Hall here.
Back