Who Will Be John Kerry's Running Mate? Prof. Ken Bode Examines the Possibilities
February 24, 2004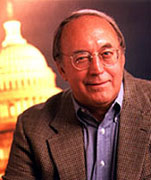 February 24, 2004, Greencastle, Ind. - "At a certain time in presidential campaigns, the conversation switches from who will win the nomination to who will be picked for vice president. As sure as the groundhog comes up in February, it is now time to handicap the vice presidential possibilities," begins an op-ed by Ken Bode, Eugene S. Pulliam Distinguished Professor of Journalism at DePauw University, published in today's Indianapolis Star. Soon, at a time when it no longer appears presumptuous, John Kerry will admit he is thinking about his running mate and has asked a respected veteran to head the search. Then the debate begins... There is no certain route to the Oval Office, except perhaps Yale, but the vice presidency is the path most often traveled. So, when Kerry makes his choice, he could be picking another president."
Bode, former senior political analyst for CNN, then examines the possibilities. The professor views Howard Dean, Gen. Wesley Clark and Bob Graham -- who all, at one time, were seeking the presidential nomination -- as unlikely choices.

"The one candidate who has earned a spot on Kerry's short list is John Edwards," Bode writes. "His late surge, upbeat message and Southern roots make an attractive package. While saying he doesn't want the job, Edwards continues to make the case against Bush, not offending Kerry. The question is: Would Edwards really do enough to help Kerry in the South?"
Bode believes New Mexico Governor Bill Richardson may have "the most exciting vote-getting potential... Richardson would be the first Hispanic on a national party ticket, which could begin to lock in that surging population for the Democrats. Also, as a former congressman, UN ambassador, energy
secretary and governor, Richardson has the credentials. Put Richardson on the short list. If geography is a factor, Sen Evan Bayh merits consideration. Some believe the Midwest is the real battleground for 2004, with every industrial state in the region hemorrhaging jobs. Bayh has never lost in Indiana, a state that rarely votes Democratic for president."
The former host of PBS's Washington Week in Review continues, "Choosing a woman would give Kerry a chance to capitalize on the enduring gender gap that already favors the Democrats. The top Democratic woman in Congress, Nancy Pelosi, is off the list for two reasons. First, she only accentuates Kerry's own liberalism. Second, you might not want to pick a member of Congress from San Francisco at a time when that city is issuing 2,000-plus possibly illegal licenses for gay marriage."
In conclusion, Bode writes, "Kerry's list is short. And it is possible that the biggest news could be made on the other side of the ballot. Al Neuharth, the man who created USA Today, recently predicted in his weekly column that George W. Bush will do what his father did not, namely dump his vice president. Neuharth, a smart man, prognosticates that at the GOP convention in September, commemorating 9/11 at Ground Zero, Bush's choice for a new vice president will be Rudy Giuliani. Stay tuned for the fun."
You can read the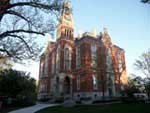 complete column at College News.org.
Ken Bode's other recent op-eds on Campaign 2004 can be accessed by clicking here, here, here and here. He reviewed the new biography, Lyndon B. Johnson: Portrait of a President in the Boston Globe. Read more here. And a student project that was supervised by Bode last year has won a first place Academy of Television Arts & Sciences Foundation College Television Award in the category of documentary (read more here).
Source: Indianapolis Star
Back