Tricia Cooksey '04 Receives The Walker Cup
May 3, 2004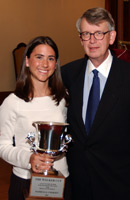 May 3, 2004, Greencastle, Ind. -

[DOWNLOAD VIDEO: "Walker Cup Announcement" 1258KB] DePauw University senior Patricia Cooksey was presented with the Walker Cup at DePauw's Academic Awards Convocation tonight. The Walker Cup recognizes the senior student judged to have contributed the most to the University during his or her four-year college career. The award was presented by DePauw University President Robert G. Bottoms.
Cooksey, a native of Bloomington, Indiana is a political science major and economics minor. She has participated in DePauw Community Service, Head Start, Indiana Reading Corps, Union Board, Student Cabinet and has served on the Coalition for a Responsible Community Task Forces (read more here).

[DOWNLOAD AUDIO: "Tricia Cooksey" 248KB] "She has also been chair of the American Cancer Society's Relay For Life," Dr. Bottoms noted, adding, "if you had a chance to pick up today's newspaper you realize the results of so much work by so many people in this room. With Patricia Cooksey's leadership, our students and community people raised over $200,000 for cancer research." Read more about the record-setting weekend event by clicking here.
Students, faculty and parents who filled Meharry Hall of historic East College tonight also heard from the winner of this year's Exemplary Teaching Award, associate professor of chemistry Jackie Roberts. She talked of how she enjoys watching her students grow and learn, but noted that she, too, has benefited from working with and around them. Dr.
Roberts said her own undergraduate professors,

[DOWNLOAD VIDEO: "Prof. Jackie Roberts" 1258KB] "taught me is that learning is fun. To be a successful educator, you show the students how much you enjoy your profession. I'm just as excited when students come to me with information they want to share as I expect them to be when I come to them with a new biochemistry topic. During all this time, I hadn't really thought about how much I've changed; how each student, including some of you in this room, have actually taught me something. I thought I was supposed to be the educator. In fact, all this time I had it wrong. I was, in fact, the one who was learning all this time. And the students have been there to teach me -- challenging me to evolve and change to meet the needs of new students."
Back