Fifth Year International Internship Available
April 3, 2000

April 3, 2000, Greencastle, Ind. - An exciting internship is now open to graduating seniors -- offering the opportunity to work at the International Center with students freshly back from off-campus study and other students getting ready to go off-campus. Sharon Gough, the first holder of the internship, has enriched students' preparation with an assignment that lets them imagine they are already living abroad.
Students read a local newspaper on the Web, find a compelling issue, and write a brief paper explaining all sides of it and guessing how it may affect them. Gough has led lively discussions with people preparing to travel to the same country. She has used her internship as a springboard to working on social justice issues in the El Paso/Juarez border area.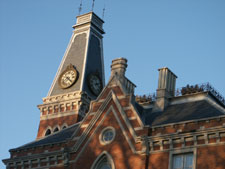 The internship was created by the generosity of the Pearson-Wohlers family.
For details about the 30-hours-a-week, nine-month job, check the International Center website. You also can call the International Center at ext. 4373. Applications are due May 17.
Back