Russell J. Compton Center for Peace and Justice to be Dedicated February 23
February 14, 2000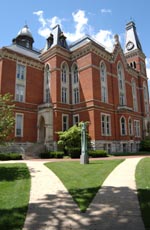 February 14, 2000, Greencastle, Ind. - DePauw University will dedicate the Russell J. Compton Center for Peace and Justice on Wednesday, February 23. As part of the DePauw Religious Life Center, the Center for Peace and Justice will strive to raise consciousness among members of the University community concerning issues of campus, local, national and global social justice. It will foster theological, sociological and political reflection concerning such issues and empower individuals to work for social change.
The dedication ceremony is scheduled at 7 p.m. in East College, Meharry Hall. A reception celebrating the establishment of the Center and honoring Compton will follow. The ceremony is open to the public. All are invited to attend.
The Center is named in honor of Russell J. Compton, who joined the DePauw faculty in 1951 and headed the department of religion and philosophy from 1952 until his retirement in 1974. Since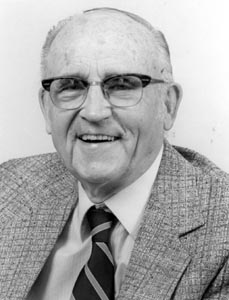 1980, Compton has volunteered as an associate chaplain in the Religious Life Center. As both a scholar and an ordained United Methodist minister, Compton has spent his life working to integrate faith, intellect and social action. Beginning in the '50s, Compton joined other Greencastle and DePauw community members in visiting with prisoners at the Putnamville Correctional Facility and since 1976 has participated in the Prisoner Visitation and Support program at the Federal Penitentiary in Terre Haute. Always a strong advocate of racial equality, he participated in the 1963 March on Washington where Martin Luther King, Jr. delivered his "I Have a Dream" speech. For over a decade, Compton was part of a team of faculty who taught the Basic Beliefs course that helped a generation of students shape their own values, develop critical thinking skills, and understand the role their actions play in events and issues in the larger world.
In its initial stages, the Russell J. Compton Center for Peace and Justice will emulate Dr. Compton's commitment to building a just and peaceful world by developing a resource center in the Religious Life Center. The center will house printed, audio-visual, multimedia and web resources to facilitate self-education and personal awareness of issues such as human rights abuse, discrimination, persecution, poverty, hunger and conditions of developing countries. The Center will promote both the connection between spirituality and social action and
the connection between the privilege of education and the responsibility to use that education for the common good. And, finally, it will join a network of similar organizations and students movements addressing social justice concerns in the national and international higher education community.
Establishment of the Center for Peace and Justice coincides with the growing student commitment to social issues on DePauw's campus. Leadership from a student-organized Social Justice Center will be integrated into the center. The center hopes to serve as a resource for many other student groups that deal with social issues.
Back