DePauw Junior to Appear on TV's Jeopardy!
February 16, 1998
February 16, 1998, Greencastle, Ind. - A DePauw University student from Larkspur, Colorado, is one of 15 students nationally selected to participate in the college tournament of the game show Jeopardy!, the CBS network announced here today. Catherine L. "Katy" Sprinkel, a junior double major in chemistry and English literature, learned of her selection Monday morning when a television camera crew surprised her while she was attending an English class on Chaucer. Leslie Olsen, a reporter for CBS affiliate WISH-TV in Indianapolis, gave the news to a nearly speechless Sprinkel.
While her classmates applauded, Sprinkel was informed that she will compete in the $25,000 Jeopardy! college tournament. The tournament is scheduled for taping March 21-22 at Berkeley, Calif., and it will be broadcast May 4-8 and 11-15. The segment featuring Sprinkel is scheduled on May 7. Sprinkel earlier auditioned for the Jeopardy! college tournament at a regional event in Kansas City, Mo.
A 1995 graduate of Douglas County High School, Castle Rock, Colo.,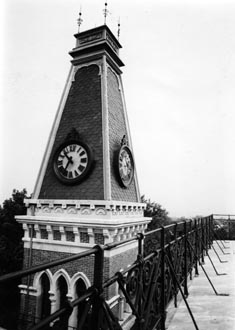 she is the daughter of Thomas J. and Claudia S. Gabriella, Larkspur. She plans a career in publishing and editing.
Founded in 1837, DePauw University in Greencastle, Ind., is a selective coeducational, liberal arts university with nationally recognized academic programs. DePauw guarantees graduation in four years for students in 40 standard programs, or the University will waive tuition and fees for any subsequent course work necessary for graduation.
Fortune magazine in 1990 ranked DePauw 11th among all colleges and universities in the nation in terms of the likelihood that its graduates will become chief executive officers of top American companies. DePauw ranks 12th in the nation among private liberal arts colleges and universities as the baccalaureate source for Ph.D. degrees in all fields, according to a 1996 survey by Franklin and Marshall College.
Back