Warwick Sculpture to be Revealed on DePauw's East College Lawn
November 6, 1997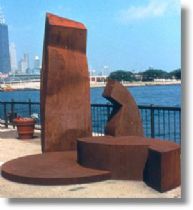 November 6, 1997, Greencastle, Ind. - The unveiling of DePauw University's newly installed public sculpture, Reach, is scheduled on Tuesday, Nov. 11 at 3:30 p.m. on the north lawn of East College. English sculptor Mark Warwick will be present for the brief ceremony. Immediately following the unveiling, Warwick will give a public lecture about his work at 4 p.m. in Asbury Hall, Room 111. Refreshments will be served. The unveiling and the lecture are open and free to the public.
A recent visit by DePauw Associate Professor of Religious Studies, William P. Harman, to the world's largest international outdoor sculpture exhibition, "Pier Walk '97," at Chicago's Navy Pier prompted the transfer of Reach, a 12-foot high, steel sculpture, to Greencastle. Harman met Warwick, whose work was on display, and Warwick expressed interest in placing his work on extended loan on the DePauw campus. (The photo at top shows the sculpture as installed in Chicago)
Reach is an expressive grouping of rising and reclining masses of rusting, cor-ten steel. It is very much in the tradition of abstract monumentality and reveals Warwick as having a Minimalist sensibility and a Brancusi-like concern with materials. Exposure of the sculpture's surfaces to the elements contributes to its evolving surface coloration and texture. The play of light on the sculpture's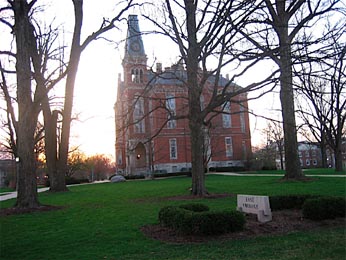 various planes gives the grouping a moody, somber air. Its two vertical, geometric, truncated forms contrast with the sinuous, essentially graceful curves that define their silhouettes. The forms suggest a reading that gives them an anthropomorphized presence. The title of the piece contributes to an interpretation of human forms.
Warwick was born in Liverpool, England, in 1963. He is a 1990 Master of Fine Arts in Sculpture graduate from the New York State College of Ceramics at Alfred University in Alfred, N.Y. Selected exhibitions in which he has participated include: "Three Sculptures" at Parkland College; Champaign, Ill.; "Pier Walk '97" at Navy Pier, Chicago; "Art 1997" at Navy Pier, Chicago; "Marquette Exhibition" at Wood Street Gallery, Chicago (1997); "Faculty Exhibition" at the Krannert Art Museum, University of Illinois at Urbana-Champaign; and "Outdoor Sculpture Exhibition" (solo) at Johnson State College in Vermont (1996).
Back