DePauw University's Valarie Ziegler Receives Exemplary Teaching Award
January 15, 1998

January 15, 1998, Greencastle, Ind. - Valarie H. Ziegler, DePauw University associate professor of religious studies, is one of 65 professors nationally selected to receive an Exemplary Teaching Award from the General Board of Higher Education Ministry of the United Methodist Church. Members of DePauw's Student Congress nominated Ziegler for the award which includes a $1,000 stipend. The award is intended to recognize outstanding teaching at Methodist related institutions of higher education.
"Professor Ziegler, with her sense of humor and broad base of knowledge, makes her classes interesting and fun," Katharine S. Heldt, student body president, said. "We nominated Professor Ziegler because she is very student oriented. Students feel very much at ease with her, and she is very approachable."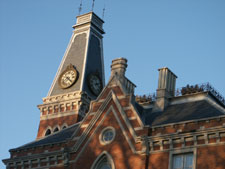 A member of the DePauw faculty since 1995, Ziegler teaches courses in the areas of History of Christianity, American Religions, and Women and Religion. She received a bachelor's degree from Centre College in 1976, Master of Divinity from Yale University in 1979, and doctorate from Emory University in 1987.
Back