DePauw Receives $142,000 Grant for Campus Climate Programs
September 30, 1994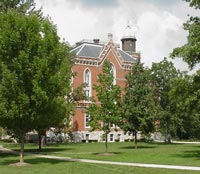 September 30, 1994, Greencastle, Ind. - DePauw University is one of 10 Midwestern independent colleges and universities selected to receive a grant for enhancement of its efforts to ensure that minority students are involved in the mainstream of the institution's curricular and co-curricular learning programs. Lilly Endowment Inc., an Indianapolis-based, private charitable foundation, awarded DePauw a $142,000 three-year grant in order for the liberal arts university to carry out the plans it submitted in a national grant competition. DePauw is one of 43 independent institutions in an eight-state area of the Midwest that submitted creative proposals for the final round of the competition.
"The process of educating and learning doesn't take place only in the classroom. The program made possible by this grant will help us expand the knowledge and growth of students and better prepare them to live in the world after they leave DePauw," Dee Gardner, DePauw dean of academic services, said.
Gardner will serve as co-director of the campus climate programs with Matt Davis, director of multicultural affairs. Gardner said the grant will enable the university to provide all students with support services, including: student leadership and diversity training; strengthening student skills in team building, cultural sensitivity and awareness; and conflict resolution. Other efforts will include development of additional social programs, a variety of speakers, support of student transportation to other cities and campuses, and supplementing programs already in place.
An important part of the program will be to promote more collaboration among students and faculty. The intent is to encourage projects that reach across the campus and involve a variety of students, according to Davis. The grant includes funds designated for faculty and curriculum development.

Both Gardner and Davis encouraged interested faculty and students to contact them about participating in any of the programs.
A national panel of five experts on minority higher education plus two Lilly Endowment executives judged the entries in the grant competition. Samuel D. Cargile, Endowment program director of education, said winning institutions took to heart the fundamental challenge of diversity -- incorporating it into the curriculum and teaching as well as the fabric of student life outside the classroom.
"A common thread among successful proposals was widespread involvement of faculty, administration and students," Cargile said. He also noted that judges were impressed by an indication of a long-term commitment -- beyond the duration of the grant -- on the part of the institution.
Back