DePauw Welcomes Larger-Than-Expected Entering Class
August 12, 1994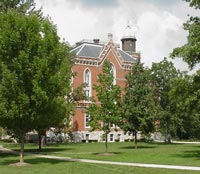 August 12, 1994, Greencastle, Ind. - DePauw University will welcome a larger-than-expected entering class of about 675 students when fall classes begin on Thursday, August 25. The class boasts 68 high school valedictorians and salutatorians, including 47 from Indiana which is more than triple the number last year. The 675 new students are a significant increase over the 1993 entering class of 523. It also is more than the university's goal of 630 new students on which this year's budget is based.
DePauw's Dean of Admission David C. Murray reported that the university received 2,212 applications this year, representing a 7.3 percent increase over 2,061 applications last year. He said there was a record number of 118 applications to the School of Music compared to 104 a year ago, and there was a record 368 applications from minority students. One hundred and two minority students, representing 15.1 percent of the entering class, have indicated they will attend this fall.
DePauw's announcement of a four-year graduation guarantee
generated great interest among Indiana prospective students and their parents, Murray said. "Many colleges across the country are down significantly in the size of their entering classes this fall, so DePauw is doing very well in terms of admissions numbers," Murray said. "In fact, our acceptance rate decreased this year, but we were able to get a larger yield on accepted students and maintain the level of academic quality."
The median SAT score for entering students is virtually identical to last year's average of 1150, according to Murray. Forty-eight percent of the entering class ranked in the top 10 percent of their high school classes, and that is similar to the past two years. "We focused our recruiting efforts on DePauw's strengths, such as Winter Term and internships," Murray said. "We streamlined the financial aid process, and, as a result, DePauw was one of the first universities to get financial aid awards out to prospective students. And in order to better identify students seriously interested in DePauw, we used telemarketing and more personal calls by students, coaches, faculty and board members."
Part of the admissions recruiting plan this year was to concentrate on Indiana, where DePauw did not draw well last year, especially in terms of women students. With the help of the new Valedictorian and Salutatorian Award for Indiana, the university increased the number of the those students from 14 last year to 47 this year. Overall, the number of valedictorians and salutatorians rose from 30 to 68.
DePauw administrators anticipated 630 new students in the 1994-95 budget based on improved marketing and changes in financial aid strategy. Thomas E. Dixon, DePauw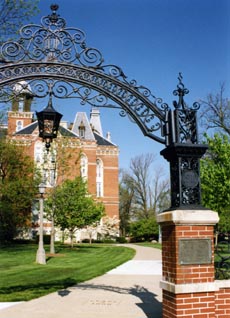 vice president for finance and administration, said that more financial aid was made available to deserving students this year, but the amount of aid given was included in the budget. "We made a conscious decision to employ a different financial aid strategy this year. We dropped home equity from consideration in determining a student's financial aid need so that we now match most of the federal guidelines and what other colleges are doing," Dixon said. "We came very close to, actually over, the number of students that we wanted and for which we budgeted."
With approximately 45 more new students than planned for, DePauw will have a small net increase in revenue amounting to less than 1 percent of its $40 million budget. The additional revenue will be applied to meet the added costs for academic and auxiliary programs generated by the greater number of students, Dixon said. He said that the larger number of students has created a few concerns, such as whether there will be enough sections of some classes and housing. Additional faculty and staff will be appointed to handle the extra load, and there is sufficient housing, according to Dixon.
Back