DePauw School of Nursing Plans 40th Anniversary Celebration
May 4, 1994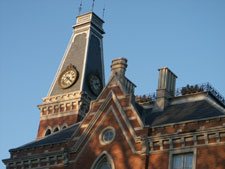 May 4, 1994, Greencastle, Ind. - The DePauw University School of Nursing, which closes at the end of the 1993-94 academic year, has planned a special program, "The DePauw Nursing Celebration: 40 Years of Excellence," on Saturday, May 14. The day will include tours of the University campus in Greencastle and Methodist Hospital in Indianapolis, where the School of Nursing is located. A cocktail hour and recognition dinner are scheduled to begin at 6 p.m. at the Ramada Plaza in Indianapolis.
Janet Bingle, a clinical specialist in nursing care of the adult and director of advanced nursing practice at Community Hospitals of Indianapolis, will be the guest speaker for the dinner program. Artist K.P. Singh was commissioned to draw a special commemorative print combining distinctive aspects of the School of Nursing. The limited edition prints will be signed and numbered, and they may be purchased from the Office of Alumni Relations in Charter House on DePauw's Greencastle campus.
Since its establishment in 1955, the DePauw School of Nursing gained respect and recognition as an outstanding program with superior staff, faculty and students.
Back