Prof. Ken Bode Appears on ABC's Nightline
January 23, 1990
[Download Video: "Prof. Ken Bode on Nightline" - 1432kb]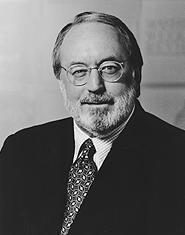 January 23, 1990, Greencastle, Ind. - "There's often two trials that public officials especially endure -- one, inside the courtroom, which they may win; at the same time they're losing the trial outside the courtroom in public opinion," Ken Bode of DePauw's Center for Contemporary Media said on ABC's Nightline tonight. The program examined the intensive media scrutiny public figures face from the news media.
According to Bode, a veteran journalist who is nationally known for his work at NBC News, "A big trial -- like the Ray Donovan trial, like the recent trial of Gov. Edwin Edwards in Louisiana -- there was just a huge amount of coverage... The prosecution's charges are repeated day after day after day by the press. By the time the trial is over with, there is a common assumption that he may have won in the courtroom, but he certainly lost it in the court of public opinion."
Bode was joined on the program by award-winning investigative
journalist Bob Woodward and constitutional scholar Arthur Miller of the Harvard Law Schoool. In introducing his guests, Nightline host Ted Koppel noted DePauw's "newly-instituted Center for Contemporary Media"
[Download Video: "Ted Koppel References DePauw" - 604kb].
Source: ABC News
Back