College Prowler Guide Lists 'Ten Best Things About DePauw'
April 13, 2005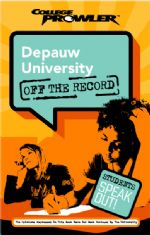 April 13, 2005, Greencastle, Ind. - "You can't make it through DePauw without having a professor who went to Harvard, Yale, or Princeton, has taught at any three of those schools, or has written and published a book that now sits on the shelf at Barnes & Noble," notes College Prowler's new guide to DePauw University. "DePauw has many highly acclaimed professors. They love what they do and want to be here," the text continues. "They're smart and they want their students to rise to their highest potential. They make their pupils work hard. So, be prepared to hold your own."
College Prowler publishes individual guides to each of the nation's top 231 colleges and universities. It ranks each institution in a number of categories, and boasts that each guide's 160 pages presents "unbiased information" that is "written, reviewed and edited by current students."
It lists the "Ten Best Things About DePauw" as:
Student & Faculty Ambition
Campus Involvement
Greek Life
Travel Abroad Opportunities
Monon Weekend
Alumni Connections
Winter Term
Beautiful Campus
Honors Programs
Endowment
"I have had amazing professors at DePauw," the book quotes a student as saying. "Every professor I have had has been completely open and helpful. If I ever need help, I have no qualms about visiting with professors." Says another: "The teachers cover the spectrum in any and every area whether it is experience, teaching styles, beliefs, goals,

etc. I haven't yet had a teacher that didn't intrigue me in one way or another nor have I ever had a teacher who didn't go above and beyond the call of duty in making themselves available to students.
Read more samples from the book at College Prowler's Web site.
DePauw University continues to receive national recognition for its programs. U.S. News & World Report has ranked DePauw in the nation's top tier of national liberal arts colleges for five consecutive years. The Princeton Review's annual publication, The Best 357 Colleges: 2005 Edition, also gives DePauw high marks for its academics and social scene, as does the 2005 edition of the Unofficial, Unbiased Guide to the 331 Most Interesting Colleges. The National Survey of Student Engagement finds that students at DePauw University enjoy significantly more
academic challenges, interactions with faculty, collaborations with others and enriching educational experiences than students at peer institutions and the national average at all colleges and universities. An October 2004 article in Atlantic Monthly cited the value of a DePauw degree, and a national survey posted at Forbes.com lists DePauw as America's #3 "most connected campus."
DePauw recently announced that total fees to attend the University in the 2005-06 academic year will increase 3.7%, the lowest percentage hike in five years. Read more here.
Prospective students who would like more information on DePauw University, including access to an online application form, can click here.
Back