Monon Bell Classic Will Again Appear Nationwide on DirecTV Channel 321
June 17, 2005

[Download Video: "See The Ballad of the Monon Bell" 9346KB]

[Download Audio: "Hear The Ballad of the Monon Bell" 2900KB]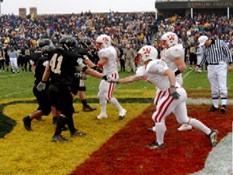 June 17, 2005, Greencastle, Ind. - The countdown is on to the 112th Monon Bell Classic, and again this year, finding the telecast of the Saturday, November 12 game will be as simple as counting down from three. Again this year, the historic battle between DePauw University and Wabash College -- tied at 51-51-9 -- will be available live nationwide via DirecTV on channel 321. Fans in Central Indiana will also be able to tune in to WHMB (Channel 40), which will also carry the game live from DePauw's Blackstock Stadium beginning at 1 p.m. The announcement was made today by Ken Owen, director of media relations at DePauw; and Jim Amidon, director of public affairs and marketing at Wabash.

[Download Video: "2004 Monon Memory" 7774KB] "The feedback we received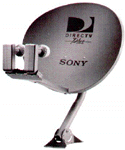 from our fans last year was fantastic," says Amidon. "In fact, it's safe to say that last year's telecast created the most glitch-free arrangement we've ever had, in terms of alumni being able to find the game on DirecTV and watch it with friends and foes alike. We're thrilled to provide this early 'heads up' that what worked so well last fall will be in place again."
"When you consider that we have about fifty alumni parties all across the United States, putting the game on a ubiquitous system that's easy to tune in is key," says Owen. "Anyone who has access to a DirecTV signal -- and you'll find it at almost any establishment in the United States that shows NFL games on Sundays -- will be able to pull in the game. It's easy and reliable, and the quality is superb whether you're across the state or on
one of the coasts."

[Download Video: "1940 Monon Memory" 3567KB] In the past, the battle for the Monon Bell has been televised on ESPN2, ABC and HDNet, was featured on CBS' Sunday Morning, and has twice been spotlighted in Sports Illustrated. ESPN listed the Bell Classic among "college football's greatest rivalries," and the annual DePauw-Wabash clash is also detailed in Rites of Autumn: The Story of College Football, a book by Richard Whittingham.
The two teams first clashed on the gridiron in 1890 and have met every year since 1911. DePauw won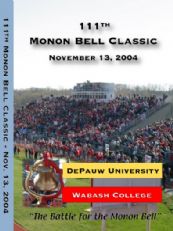 last year's game 14-7 before in front of an announced record crowd of 11,504 fans at Wabash's Little Giants Stadium.

[Download Video: "2001 Monon Memory" 4124KB] For more than a decade, the two schools have worked together to stage alumni parties across the nation where graduates and friends of the colleges can gather to catch up with friends and cheer on their favorite team. Alumni telecast parties will again held in more than 40 states coast to coast. Learn more by clicking here.
DVDs of the 2004, 2003, 2002 and 2001 Bell Battles are still available (the jacket of the 2004 disc is seen at right). Read more, and order online, here.
Access DePauw's Monon Bell Web page by clicking here.
Back