ESPN Poll: Monon Bell Classic is Indiana's Best Sports Rivalry
August 8, 2005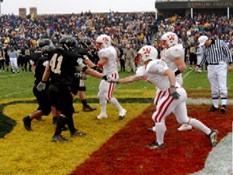 August 8, 2005, Greencastle, Ind. - Visitors to ESPN's Web site have voted the Monon Bell Classic as "Indiana's Best Rivalry." More than 37-thousand votes were tallied in the online survey. The DePauw-Wabash battle won handily with 35% of the votes.
The Indiana University-Purdue University basketball rivalry finished second, nearly ten points behind (25.5%). The others were Notre Dame vs. Purdue (football, 13.2%); Indiana University vs. University of Kentucky (basketball, 7.7%); Indiana Pacers vs. Detroit Pistons (6.4%); Indianapolis Colts vs. New England Patriots (5.9%); Indiana Pacers vs. New York Knicks (2.6%); Indiana All-Stars vs. Kentucky All-Stars (high school basketball; 2.0%); and
Indiana University vs. Purdue University (football, 1.7%).
ESPN also asked visitors to choose their "favorite personality or historical figure." In that category, America's 44th Vice President and 1969 DePauw graduate Dan Quayle came in sixth with 6% of the tallies. Television's David Letterman was the clear favorite in that category (42.5%), with musician John Mellencamp second (42.5%). Quayle finished fewer than two points behind James Dean, Michael Jackson and Kurt Vonnegut Jr., and ahead of Orville Redenbacher, Jim Davis, Benjamin Harrison, and Jane Pauley.

[Download Video: "See The Ballad of the Monon Bell" 9346KB]

[Download Audio: "Hear The Ballad of the Monon Bell" 2900KB]
The Monon Bell Classic is one of the oldest and most storied rivalries in all of college football. Again this year, the historic battle between DePauw University and Wabash College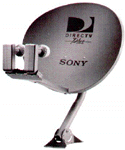 -- tied at 51-51-9 -- will be available live nationwide via DirecTV on channel 321. Fans in Central Indiana will also be able to tune in to WHMB (Channel 40), which will also carry the game live from DePauw's Blackstock Stadium beginning at 1 p.m. on Saturday, November 12.
Learn more about the telecast and the rivalry here.
Visit the Monon Bell Web page, where you can access "Monon Memories" of past games as well as all-time records and statistics, by clicking here.
Back