Slow Down and Shake Off "Hurry Sickness," Advises Prof. Ted Rueter
August 26, 2005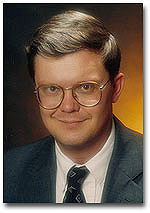 August 26, 2005, Greencastle, Ind. - The fast pace of modern life, and Westerners' need for instant gratification, draw the attention of Ted Rueter. Writing in the Herald-Times of Bloomington, Indiana, the assistant professor of political science at DePauw University states, "We have instant coffee, instant replay, instant polls, and Instant Messaging ... And there are products galore to help us save those precious milliseconds! In your car, you can read your e-mail on your high-speed Palm Pilot (while checking for faxes) as you wolf down some Pop Tarts that you heated up in the microwave. If you're still hungry, you can grab some frozen waffles from the drive-through at McDonald's (while barking orders to subordinates on your cell phone). At the office, you punch the elevator button dozens of times, in the vain hope that the elevator will somehow arrive more quickly."
The professor argues, "The acceleration of modern life has many consequences. One is 'hurry sickness.' In order to speed up their bodies, Americans consume massive amounts of caffeine--which can lead to nervousness, restlessness, and insomnia... Another effect of our speeded-up culture is workaholism. In the United States, the average work week is now 47 hours -- up from 34 two decades ago. A recent Gallup Poll found that 44
percent of Americans consider themselves workaholics."
Rueter says priorities have shifted as the speed of modern life has accelerated. "Nowadays, who has time for carefree lunches or 'long walks on the beach'? A 1994 study by the National Opinion Research Center at the University of Chicago found that Americans' favorite activity is sex. And how much time does the average American devote each day to the cause? Four minutes."
Rueter offers suggestions from Dr. Ann McGee-Cooper for overcoming hurry sickness, including:
take off your watch for the weekend
plan time to do nothing
enjoy daydreaming, doodling, snoozing, and coasting
plan silence into your life

Access the complete essay at College News.org.
Earlier this month, Dr. Rueter appeared on ABC's 20/20. Read more in this previous story, and learn about his other recent columns here, here, here, here, and here.
Source: Bloomington (Ind.) Herald-Times
Back