"The Business of Freedom is Always Unfinished," Says Lee Hamilton '52 As He Receives Four Freedoms Medal
October 23, 2005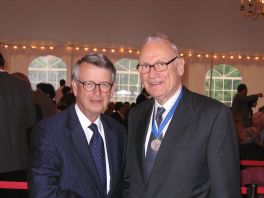 October 23, 2005, Greencastle, Ind. - Lee H. Hamilton, a 1952 DePauw University graduate "who served as a congressman from Indiana for 34 years, was thrilled to receive the award, which he accepted on behalf of the entire 9/11 Commission," today's Poughkeepsie Journal reports. Last night, Hamilton and his co-chair on the 9/11 Commission, Thomas Kean, were both honored with the Four Freedoms Medal by the Franklin and Eleanor Roosevelt Institute. The ceremony was held on the grounds of the FDR Presidential Library and Museum in Hyde Park, New York. Other recipients were Bill Clinton, Cornel West, Tom Brokaw and Marsha Evans.
A DePauw contingent was on hand for the ceremony, led by President Robert G. Bottoms, seen in photo at top, which was submitted by James E. and Carolyn Russ Robinson ('70 & '71).
The newspaper's Michael Woyton writes, "When (Hamilton) was first told of the honor, he thought of one of the Norman Rockwell paintings of the four freedoms, with mother and father tucking in a sleeping child. 'That painting reflects the longing of parents everywhere,' Hamilton said, for safety and freedom from fear. 'The business of freedom is always unfinished,' he said. 'You must have an unshakable faith in the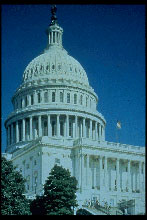 freedom you want to defend.'"
Lee Hamilton, who received the Freedom from Fear Medal, is currently the director of both the Woodrow Wilson International Center for Scholars in Washington, D.C. and The Center on Congress at Indiana University. Hamilton retired from the U.S. House of Representatives in 1999.
Read the article, which includes comments from the other honorees, at the newspaper's Web site. A photo of Hamilton and Kean from the event can be accessed here. Another story on the ceremony, with a quote from Lee Hamilton, is published in today's Daily Freeman.
Learn more about Hamilton and the Four Freedoms Medal in this previous story.
Back