Tim Vieke '86 Makes Career Switch from Stockbroker to HS Basketball Coach
December 11, 2005
December 11, 2005, Greencastle, Ind. - "I played for (Vincennes Lincoln) coach 'Gunner' Wyman on their 1981 state championship team and I played four years at DePauw University," says Tim Vieke, the new boy's head basketball coach at Vincennes Rivet High School and 1986 graduate of DePauw University. "I made the decision to do this not knowing how the kids would respond. But they seem happy with what's going on."
A story in the Evansville Courier & Press notes, "Tim Vieke isn't a stockbroker in the style of Charles Schwab, but Schwab doesn't coach basketball like Vieke. Vieke took over the Vincennes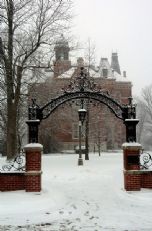 Rivet boys' head coaching position on the day before practice started. The vacancy happened when Jamie Hudson left to take a position with Bedford-North Lawrence High School. Vieke has spent the past 14 years as a stockbroker. He also had helped coach Vincennes Rivet's junior varsity. Although he didn't have any experience as a head coach, he did have experience in basketball."
The newspaper's Tom Collins writes that Vieke's squad is off to a good start, opening with two victories on the road. "We're not tall or big and strong. But the kids can shoot, they are quick and we spread the floor to take advantage of it," the new coach says.
Read the complete article at the Courier & Journal's Web site (a free registration is required).
Back