Jack Kent Cooke Foundation Offers Graduate Scholarships
December 13, 2005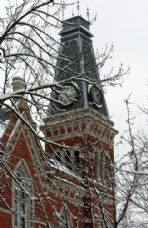 December 13, 2005, Greencastle, Ind. - Students and recent alumni of DePauw University are invited and encouraged to inquire about graduate scholarships from the Jack Kent Cooke Foundation. One of the largest and most competitive scholarship programs in the nation, the Cooke Foundation's Graduate Scholarship Program is open to college seniors as well as alumni who have graduated since May 2001. The scholarships can total as much as $50,000 per year for up to six years.
The Foundation will award the graduate scholarships in early summer 2006 for use during the 2006-07 academic year, and will renew each award in subsequent years based on performance. Last year, the Foundation awarded 77 of these scholarships. A panel of national experts will assist the Foundation in selecting scholars.
Candidates for the scholarship must have unmet financial need and be nominated by the faculty representative at their undergraduate institution. DePauw's representative, Marnie McInnes, dean of academic life, can be reached at (765) 658-4359 or by sending an e-mail here.
The Foundation began awarding graduate scholarships in 2001.
It has received approximately 1,000 applications for the scholarships each year, and has awarded 209 recipients scholarships worth $29.9 million.
The Jack Kent Cooke Foundation is a private, independent foundation founded in 2000 by the estate of Mr. Cooke to help young people of exceptional promise reach their full potential through education. It focuses in particular on individuals with financial need. Visit the Foundation online by clicking here.
Back