Record Admission Year Yields 639 New Students
May 30, 2006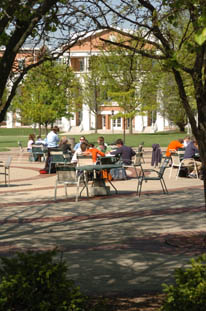 May 30, 2006, Greencastle, Ind. - DePauw University will enroll 639 students this fall, "a terrific incoming class that is the result of a record admission season," says Stefanie Niles, dean of admission. "The Class of 2010 continues the DePauw traditions of attracting academically successful students who have been involved on their high school campuses and in service projects in their communities. We look forward to welcoming the newest members to the DePauw family in a few months," adds the dean.
The new class will be one of the most ethnically diverse in recent years. One hundred five students of color will be enrolling, representing 17% of class. In addition, there are 14 degree seeking international students in the entering class who will come to Greencastle from 10 different countries.
The incoming class also includes 50 first-year students in the DePauw University School of Music: 19 are vocalists and 31 are instrumentalists.
DePauw's Programs of Distinction continue to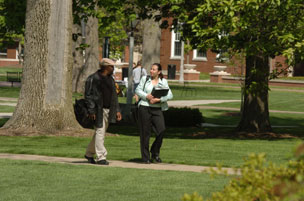 be a major attraction. The Class of 2010 includes:
43 students in the Information Technology Associates Program
40 Management Fellows
23 Honor Scholars
23 Media Fellows
16 Science Research Fellows
There are also 64 Holton Scholars and 15 Rector Scholars.
The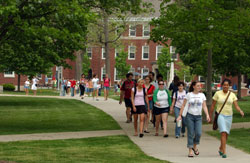 incoming class was selected from the largest pool of applicants in DePauw's history. The University received a total of 4,931 applications for the 2006-07 academic year, a 27% increase over the 3,869 that came in a year ago, and a new all-time high. The previous record year for applications was 2002-03 when 4,115 students applied to the University.
"This is the culmination of a very busy and successful year for the Office of Admission, and we'd like to thank everyone -- faculty members, alumni, students and staff at DePauw; some who recommended top students to the University, and others who made those students feel at home during campus visits -- for their contributions," says Niles. "The results of these efforts bode well for DePauw as it continues to attract some of the nation's best students and is increasingly rising on the national radar."
U.S. News & World Report has ranked DePauw in the nation's top tier of national liberal arts colleges for six consecutive years. Historic East College is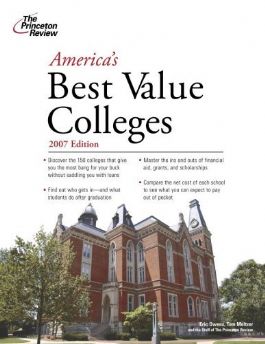 pictured on the cover of America's Best Value Colleges: 2007 Edition, which lists DePauw University as one of 150 colleges offering excellent academics, generous financial aid packages and relatively low costs. The Fiske Guide To Colleges 2006 ranks the University as one of 45 "best values." The Princeton Review's annual publication, The Best 361 Colleges: 2006 Edition, also gives DePauw high marks for its academics and social scene, as does College Prowler's guide to DePauw University. The National Survey of Student Engagement finds that students at DePauw University enjoy significantly more academic challenges, interactions with faculty, collaborations with others and enriching educational experiences than students at peer institutions and the national average at all colleges and universities. DePauw is also among the "Top 50 Most Unwired College Campuses," a survey of all institutions of higher learning -- big and small -- sponsored by Intel Corporation. DePauw is ranked #30 -- the highest of any liberal arts college in America -- in the report.
Prospective students can learn more about the admission process and apply online by clicking here.
Back