Senior One of 69 Nationwide Selected for UK Student Ambassador Program
September 5, 2006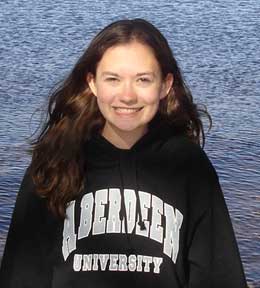 September 5, 2006, Greencastle, Ind. - Cindy M. Geiger, a DePauw University senior, is among 69 college students nationwide selected by the British Council USA to participate in its prestigious Student Ambassador Program and help spread the word about the many and varied educational opportunities available to those who study in the United Kingdom. The British Council USA is the UK's international organization for educational and cultural relations. Geiger studied at the University of Aberdeen in Scotland during the Spring 2006 semester.
Selection for the Student Ambassador Program is based on adviser recommendations and a demonstrated enthusiasm for the students' overseas study experience. British Council USA Student Ambassadors coordinate with study abroad offices at their universities, as well as British Consulates in their regions, to highlight educational, cultural and scientific opportunities in the UK. To be eligible for the program, students must have studied at a university in England, Scotland, Wales or Northern Ireland and currently be enrolled in a US institution.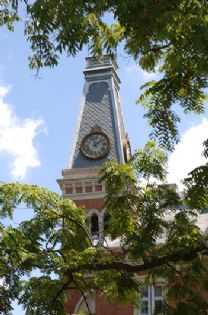 "I'm honored to represent DePauw through the British Council USA," says Geiger, an English (literature) major from Fremont, Ohio, who is editor-in-chief of the student travel magazine, Eye on the World. "I loved my study abroad experience, so I'm excited about sharing my insights and promoting study in the UK to students here."
"As an English major, Cindy was able to gain access to a realm of literary experience in Scotland that she wouldn't have had here at DePauw, both through her courses and through the oppportunity to be part of a culture that so deeply informs English literature," notes her faculty adviser, Deborah R. Geis, associate professor of English. "Her British Council USA position allows her to keep the lines of communication open between students here who may wish to study abroad, and the academic and social networks in the United Kingdom."
The new Student Ambassadors hail from 57 different colleges including Brown University, Iowa State, Georgetown University, and University of Miami, as well as several campuses from State University of New York and University of California. Their studies range from international relations and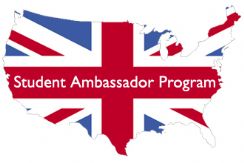 business to engineering and graphic design. Details can be found here.
The British Council USA Student Ambassador program was launched in 2002 to showcase the exceptional educational opportunities and cultural diversity that help make the United Kingdom the top destination for American study abroad students. Learn more about the program by clicking here.
DePauw is ranked annually as one of the nation's top colleges and universities for offering students opportunities to study abroad. Learn more in this previous story.
Back