A DePauw Fall Tradition, Old Gold Weekend, is October 5-7
September 14, 2006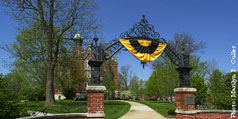 September 14, 2006, Greencastle, Ind. - You're invited back to campus for Old Gold Weekend, October 5-7. The DePauw University tradition will be a time to recognize outstanding alumni achievement and enjoy a wonderful fall weekend with friends. There will also be guided tours of the DePauw Nature Park, exhibitions at the Richard E. Peeler Art Center, and the Old Gold Day football game, featuring DePauw versus the University of the South (Sewanee).

During the Alumni Achievement Awards banquet on Friday at 6:30 p.m. at Walden Inn, the DePauw Alumni Association will present its highest honor, the Old Gold Goblet, to Theodore "Tim" M. Solso '69 (photo at left) and the Young Alumni Award to Wendy A. Ellis-Gardner '89 (seen at right). In addition, six individuals will be presented with Distinguished Alumni Achievement Awards:
Distinguished Alumni Achievement Award for Citizenship and Voluntary Service: Andrew B. Buroker '84
Distinguished Alumni Achievement Award for Creative and Performing Arts: D. David Cryer '58
Distinguished Alumni Achievement Award for Management and Entrepreneurship: Janet Risi Field '81
Distinguished Alumni Achievement Award for Media: Ford C. Frick '15 (posthumous) and Douglas "Paul" Frantz '71
Distinguished Alumni Achievement Award for Professional Achievement: Dr. James N. Thompson '66
Other Old Gold Weekend highlights include Saturday's Washington C. DePauw Society and Scholarship/Grant Benefactors and Recipients Breakfast, and Saturday night's DePauw Athletic Hall of Fame Induction and Banquet. The Hall's Class of 2006 includes:
Anthony J. de Nicola '86 (football)
David M. Galle '87 (basketball, track and field)
Nick Mourouzis (football)
Dr. Adrienne Rasbach '94 (swimming)
Phillip E. Wendel '86 (basketball)
Dr. Greg A. Werner '89 (football, baseball)
James P. Zerface '62 (basketball)
For a complete schedule of Old Gold Weekend 2006 events click here, or call the Office of Alumni Relations at (877) 658-2586. E-mails can also be sent to alumnioffice@depauw.edu.
Back