Bill Tysseling '69 Leading Santa Cruz Chamber of Commerce
January 15, 2007
January 15, 2007, Greencastle, Ind. - William R. Tysseling, a 1969 graduate of DePauw University, has been appointed executive director of the Santa Cruz, California Chamber of Commerce. "Tysseling, 59, is an affable guy sporting a salt-and-pepper beard and a burgundy sweater vest under his suit to ward off the morning chill," reports the Santa Cruz Sentinel. "For the past three years, he split his time between here and the Corn State where he earned a law degree in 1972 to be the director of distance education for Iowa State University."
"We had a number of highly qualified candidates, so it was not an easy selection process," says Charlie Eadie, president of the chamber.
A sidebar to the story notes Bill Tysseling's DePauw degree, and that the new executive director "sees opportunities in the coastal marine campus proposed by UCSC at Terrace Point, which has yet to be approved by the California Coastal Commission, and in the idea of an oceanfront conference center and hotel, although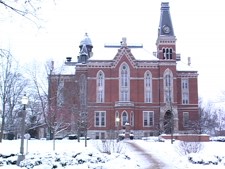 community opposition killed a $100 million makeover of the Coast Santa Cruz Hotel in 2005. 'It's such a unique location, at the beach and close to downtown,' Tysseling said. 'It's a natural marketing opportunity. Whether someone will come in is an open question.'"
Read the complete text at the newspaper's Web site.
Back