Commitments by New Students for Fall Enrollment Up 9%
March 20, 2007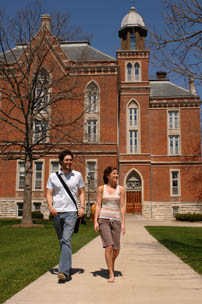 March 20, 2007, Greencastle, Ind. - Paid deposits for admission to DePauw University are running 9% ahead of the same period last year as the incoming Class of 2011 continues to take shape. "DePauw is clearly the first choice of many of our applicants, as this strong showing of early commitment suggests," says Stefanie Niles, vice president for admission and financial aid. As of March 16, DePauw had received deposits from 135 young scholars who have been accepted for admission to the University, compared with 124 on March 17, 2006.
More than four thousand (4,182) applications have been received during this admission season. The University has received 46,235 inquiries from prospective students and their parents since the fall, an increase of 47% from the previous year. DePauw hopes to enroll an incoming class of approximately 655 students.
"High school students seem to be acutely aware of DePauw's tradition of small class sizes," says Niles. "They know that if they spend four years here, they'll learn from hands-on faculty members who get to know students and experience learning and living in the tremendous campus
buildings that we have. They're also quite familiar with DePauw's national reputation for graduating people who do great things in their communities and for the world," she adds. (at right: DePauw students talking with Lee Hamilton '52, co-chair of the Iraq Study Group)
The April edition of Kiplinger's Personal Finance ranks DePauw University among the 50 liberal arts colleges in the United States that represent a "best value." The 2007 edition of U.S. News & World Report's "America's Best Colleges" lists DePauw University in the top tier of national liberal arts colleges for a seventh consecutive year. "DePauw is a midwestern match for many more expensive, small, private East Coast Colleges," asserts Barron's Best Buys in College Education. DePauw is again among the The Best 361 Colleges in the 2007 guide, and historic East College is pictured on the cover of America's Best Value Colleges: 2007 Edition, which lists DePauw as one of 150 colleges offering excellent academics, generous financial aid packages and relatively low costs.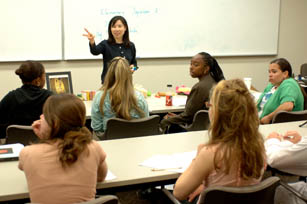 The 2006 National Survey of Student Engagement (NSSE), released in November, found that the experiences of students at DePauw are significantly more challenging, stimulating, interactive and dynamic than those provided at peer institutions and the national average of all colleges and universities. The University performs especially well in the areas of level of academic challenge, active and collaborative learning, student-faculty interaction, enriching educational experiences.
Prospective students who would like more information on DePauw University, including access to an online application form, can click here.
Back