DePauw Outpaces Peer Schools and National Averages in 2006 National Survey of Student Engagement
November 13, 2006
November 13, 2006, Greencastle, Ind. - The experiences of students at DePauw University are significantly more challenging, stimulating, interactive and dynamic than those provided at peer institutions and the national average of all colleges and universities, according to the 2006 National Survey of Student Engagement (NSSE). The annual national study, "Engaged Learning: Fostering Success of All Students," released today, is based on information from approximately 260,000 randomly selected first-year and senior students at 523 four-year colleges and universities. The NSSE is sponsored by The Carnegie Foundation for the Advancement of Teaching.
"DePauw University has a long and strong tradition of small classes in which students are called upon to speak, question and write, and the National Survey of Student Engagement suggests that we are among the nation's best institutions in engaging our students and providing a unique educational and social experience," says DePauw President Robert G. Bottoms. "Given the scientific methodology the NSSE utilizes and the areas it explores, the findings are important external affirmation that DePauw offers a four year experience that prepares its students for the challenges they'll face in life and equips them with the tools they will need to inquire, learn and grow."
The NSSE measures five benchmarks: level of academic challenge, active and collaborative learning, student-faculty interaction,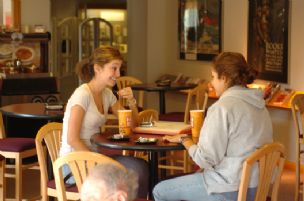 enriching educational experiences, and supportive campus environment. DePauw's scores are compared with the average of private liberal arts colleges, peer Carnegie classification institutions, and a national figure, which represents all colleges and universities benchmarked by the NSSE. DePauw placed in the top 10% of all participating schools in Level of Academic Challenge. All scores are ranked on a scale of 1 to 100, with the higher score being better.
Level of Academic Challenge (includes: preparing for class, number of assigned readings, number of written papers or reports, coursework emphasizing application of theories or concept to practical problems or in new situations, campus environment emphasizing time studying):
| | | |
| --- | --- | --- |
| | First-Year Students | Seniors |
| DePauw | 64.0 | 64.3 |
| Private Liberal Arts Colleges | 59.2 | 63.5 |
| Carnegie Peers | 55.7 | 59.8 |
| National Avg. | 51.7 | 55.8 |
Active and Collaborative Learning (includes: asking questions/contributing to class discussions, making class presentations, working with fellow students in and out of class, participating in a community-based project as part of coursework)
| | | |
| --- | --- | --- |
| | First-Year Students | Seniors |
| DePauw | 48.3 | 55.7 |
| Private LA | 44.8 | 53.8 |
| Carnegie Peers | 43.1 | 52.8 |
| National | 41.3 | 50.4 |
Student-Faculty Interactions (includes: discussing assignments and career paths with faculty member, working with faculty members on activities other than coursework, working with faculty member on a research project outside of course or program requirements)
| | | |
| --- | --- | --- |
| | First-Year Students | Seniors |
| DePauw | 39.0 | 53.0 |
| Private LA | 37.0 | 55.6 |
| Carnegie Peers | 34.9 | 48.9 |
| National | 32.1 | 41.3 |
Enriching Educational Experiences (includes: participating in co-curricular activities, internships and community service projects; study abroad; serious conversations with students of a different race or ethnicity or of different religious beliefs, political opinions or personal values; using electronic technology to discuss or complete an assignment)
| | | |
| --- | --- | --- |
| | First-Year Students | Seniors |
| DePauw | 33.8 | 55.7 |
| Private LA | 30.8 | 55.8 |
| Carnegie Peers | 28.9 | 48.8 |
| National | 26.7 | 39.9 |
Supportive Campus Environment (includes: provides the support students need to succeed academically, thrive socially and cope with non-academic responsibilities; quality of relationships with other students, faculty members and administrators)
| | | |
| --- | --- | --- |
| | First-Year Students | Seniors |
| DePauw | 65.9 | 59.0 |
| Private LA | 64.7 | 62.6 |
| Carnegie Peers | 62.2 | 60.9 |
| National | 59.1 | 56.6 |
"NSSE findings provide faculty and staff with information they can
readily use to strengthen the learning environment," says David Shulenburger, vice president of the National Association of State Universities and Land-Grant Colleges. Adds Belle Wheelan, president of the Southern Association of Schools and Colleges, "NSSE is used more widely than ever as an effective way to assess what both institutions and students themselves do to foster student success."
"At a time when the quality of postsecondary education seems to be slipping, participating in engaged learning activities promises to prepare students for a lifetime of continuous learning so that they and the country stay competitive in the global marketplace," says George Kuh, director of the NSSE and professor of higher education at Indiana University in Bloomington.
The 2006 NSSE report also finds:
While student engagement helps all learners, those who come to college less well prepared academically or are from historically underrepresented racial and ethnic backgrounds tend to benefit even more.
First-year students at liberal arts colleges more often participate in class discussions and view their faculty more positively than students at other institutions.
Interacting with faculty members and working with peers on projects inside and outside of class has positive effects on grades and increases the odds that students will return to college for a second year.
Student engagement is positively related to grades and to persistence between the first and second year of college.
Visit the National Survey of Student Engagement's Web site by clicking here.
A number of other national surveys and publications have also given DePauw's academic programs and campus environment high marks. The 2007 edition of U.S. News & World Report's "America's Best Colleges" ranks DePauw University in the top tier of national liberal arts colleges for a seventh consecutive year. "DePauw is a midwestern match for many more expensive, small, private East Coast Colleges," asserts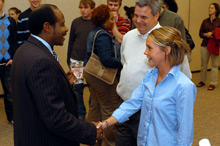 Barron's Best Buys in College Education. DePauw is again among the The Best 361 Colleges in the new, 2007 guide, and historic East College is pictured on the cover of America's Best Value Colleges: 2007 Edition, which lists DePauw as one of 150 colleges offering excellent academics, generous financial aid packages and relatively low costs. The College Prowler guide states, "DePauw is definitely home to the quintessential college experience." The University is among the "50 Best Colleges" featured in the October 2006 issue of CosmoGirl magazine. The Advocate College Guide for LGBT Students ranks DePauw among
America's best 100 campuses for lesbian, gay, bisexual and transgender students. (above right: Paul Rusesabagina, the real-life hero of Hotel Rwanda, greets a DePauw student during his 2005 visit to campus)
DePauw is also among the "Top 50 Most Unwired College Campuses," a survey of all institutions of higher learning -- big and small -- sponsored by Intel Corporation. DePauw is ranked #30 -- the highest of any liberal arts college in America -- in the report.
Prospective students who would like more information on DePauw University, including access to an online application form, can click here.
Back