Assistant Coach Mary Smith Discusses National Basketball Title with Wisconsin Paper
April 2, 2007
April 2, 2007, Greencastle, Ind. - "Mary Smith left her mark on Eau Claire basketball more than two decades ago when she became the area's first girls high school player to earn a Division I scholarship," begins an article in Wisconsin's Leader-Telegram. "Greencastle, a town of about 10,000 in west-central Indiana, won't soon forget her either. The Memorial grad helped lead the DePauw women's basketball team to a school-record 31 wins and its first Division III national championship, capping her 13th season as an assistant coach for a school that, until March 17, had never basked in the glory of a national title," writes Mike Fowler.
"Sometimes in the past our players have said, 'Yeah, we can do it; we want it.' But their words and their actions didn't match up," Smith tells the newspaper. "But this year, from the conference tournament on, they said they were going to do it, and they said they wanted to do it. And I had no doubt they could."
"Working primarily with post players, Smith has helped mold forwards like Liz Bondi, who was named the school's first Kodak All-American last month," notes Fowler.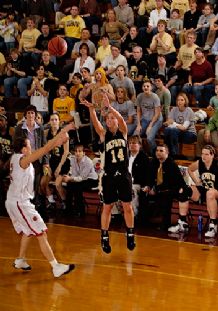 And she's helped raise nearly $100,000 for charity as the director of marketing and promotions for the athletic department."
DePauw head women's coach Kris Huffman says of Smith, "She's had opportunities for other head coaching jobs, but she's decided to stay an assistant and look at other things in athletics, and we've benefited from that."
Smith states, "It might seem odd to people, because sometimes people think, 'Division I is where it's at, or being a head coach is where it's at.' But titles and things like that really aren't important to me."
Read the complete story by clicking here.
Video highlights of the national championship game (which was televised nationally on CSTV) and the Tigers' celebration can be accessed in this previous story and comprehensive coverage of the team's historic season can be found by clicking here.
Access a photo gallery here.
Back