ChicagoSports.com Highlights "Perfect Fit" of Liz Bondi '07 and DePauw
July 3, 2007
Also: Liz Bondi Featured on CBS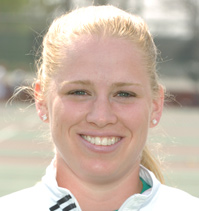 July 3, 2007, Greencastle, Ind. - "To put it mildly, it was a good year for DePauw's Liz Bondi," begins an article at the Chicago Tribune's ChicagoSports.com. "It wasn't enough for the 2002 Maine South graduate to garner first-team All-America honors in basketball as the leading scorer and rebounder on the school's first-ever national championship team. Bondi celebrated that feat two months later by winning the Division III singles tennis national championship in a three-set triumph over defending champion Emily Applegate of Washington & Lee," writes Steve Reaven.
The story continues, "To top off her record-breaking 2006-07 season, which also included being named Division III National Senior of the Year in tennis, Bondi recently was the recipient of the Honda Division III Collegiate Woman Athlete of the Year award."
The May 2007 DePauw graduate says, "It was an honor to even be considered, especially once I realized who the other finalists were and what talented athletes they are. It's great to know that other people thought highly of my achievements, both academically and athletically."
The text recalls Bondi's speech when she accepted the Honda Award as the nation's best Division III female athlete in New York City last week. Reaven writes, "While on a casual shopping trip last summer, she came across a miniature basketball containing a Final Four logo. She bought the ball and placed it in her room next to a tennis ball that was used during her national championship doubles tennis match last spring, which she and her partner, Amrita Padda, lost in the three sets to Tara Houlihan and Lyndsey Palen of Gustavus Adolphus College. Having those two balls sitting next to each other gave Bondi every reminder she needed to put in all the practice and training necessary to transform her performance once senior
year arrived. 'All the hours you put in (practicing) outweighs the actual competition,' said Bondi. 'Being motivated in the right way really makes you train harder.'"
Bondi played basketball, tennis and softball at Maine South High School in Illinois. "The fact that Bondi excelled in so many sports in high school likely worked against her having the opportunity to earn a Division I athletic scholarship. Since she was constantly shifting from one sport to another during the year, Bondi decreased the exposure she might have received in off-season AAU basketball showcases or tennis observation tournaments. That was fine with Bondi. DePauw, a private, 2,400-student college, proved to be the perfect fit for someone who was just as eager to become a college student as a college athlete."
"I really wanted to go to a school in a small setting, both in the community and classroom-wise," says Bondi, who majored in kinesiology and has plans to attend medical school. "At a school like DePauw the students have so much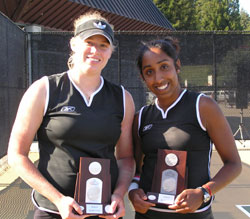 more interaction with their instructors and you get to know just about everybody on campus. I don't regret competing in Division III one bit."
Read the complete story at ChicagoSports.com and see a feature that aired on CBS two days ago.
Liz Bondi's Honda Award is detailed in this previous story. Other recent articles on Bondi include a June 15 Indianapolis Star piece and a summary which includes video highlights of the women's basketball team's national championship game.
For comprehensive information on Tiger sports, visit the DePauw athletics page.
Back