Help Artist Patrick Dougherty Create an Environmental Sculpture On Campus
October 27, 2007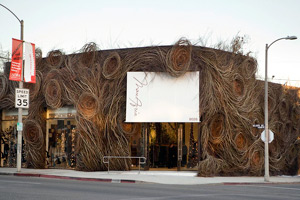 October 27, 2007, Greencastle, Ind. - Internationally renowned sculptor Patrick Dougherty is coming to the campus of DePauw University to create a site-specific environmental sculpture, and you're invited to help. Dougherty will begin work on the project -- which will be made of native materials and be located north of the Memorial Student Union Building -- during the month of November. Volunteers are needed to assist the artist with the project. (at left: Max Azria Melrose Avenue Boutique, Los Angeles, California; photo by David Calicchio)
Over the past two decades, Dougherty has created more than 150 sculptures throughout the United States, Europe and Asia. His most recent commission was completed at Vermont's Middlebury College last month. Some of his Dougherty's other noted commissions have included the Morton Arboretum in suburban Chicago, Cornell University, Brown University, and the Willow Project in Scotland.
DePauw students, faculty and staff members are invited and encouraged to share in the creation of the sculpture, which is believed to be the first outdoor environmental site-specific installation in DePauw's history. Volunteers are needed from 8 a.m. to 7 p.m. daily from November 1 - 19. For information, or to sign up, send an e-mail to mscott@depauw.edu or stop by the site beginning November 1.
The project will be publicly dedicated at 4 p.m. on November 19. Information can be accessed by clicking here.
Learn more about Patrick Dougherty and see his work at the artist's Web site.
Back