Trustee Updates Include Presidential Search Process and Greek Issues at Fall Meeting
October 26, 2007
October 26, 2007, Greencastle, Ind. - The committee involved in the search for DePauw University's nineteenth president will begin interviewing candidates for the position next month, says R. David Hoover, chair of DePauw's Board of Trustees. Hoover (pictured below right), a 1967 graduate of the University and chairman of the board, president and chief executive officer of Ball Corporation, serves on the presidential search committee. He addressed student journalists at a news conference this afternoon after the trustees concluded their fall meeting.
Sarah Reese Wallace '76, who is chairing the presidential search committee, reports, "Our efforts have resulted in a significant number of qualified applicants and numerous other persons who have expressed interest in the position but who have not yet agreed to formally enter the search process."
Wallace is leading a committee of 17 individuals, which includes nine other Trustees, four faculty members, two students and one administrator. Robert G. Bottoms, who has served as DePauw's president since 1986, announced in April that he will be stepping down from the post and becoming Chancellor of the University following the 2007-08 academic year.
Updates can be found at this Web page, which is updated regularly.
Also at the board meeting, a committee of trustees which has been following up on the work of the Greek Fact-Finding process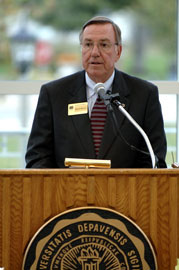 reported on its progress. Three Greek life coordinators have been hired, the Greek Life Advisory Council has approved an implementation plan for new housing standards, and the University awaits a ruling from the Internal Revenue Service on a request to create a voluntary support program to help fund the costs of new health and safety standards for student housing.
For further details on Greek progress, click here.
Speaking immediately following the dedication ceremonies for the Janet Prindle Institute for Ethics and the Judson and Joyce Green Center for the Performing Arts, Hoover said, "I can't imagine topping this." He noted the "dedication and hard work of a lot of people to bring these two fine facilities into being. I think the programming both will add is going to make this University a much better place for a long time to come."
Back