Vernon Jordan '57 Discusses 'Freedom in America' at Alumni College
June 4, 1982

[Download Audio: "Audio of Vernon Jordan's Speech" - 19,232kb]
June 4, 1982, Greencastle, Ind. - "I am no doom and gloom prophet, I happen to think our institutions are flexible enough to meet the challenges of these extraordinary times," Vernon Jordan said today at his alma mater, DePauw University. "But I also know enough history to be concerned that we are polarizing in the worst way between those who care and those who don't care and that freedom is too valuable to take for granted."
Jordan, who served as president of the National Urban League from 1972 to 1981, presented a talk, "Freedom in America". His was the concluding lecture in a week-long Alumni College at DePauw University. Jordan, a 1957 graduate of DePauw, is back for Alumni Weekend.
The America of 1982 is experiencing "mounting poverty and anger, depression-level unemployment and unequal opportunity," Jordan says.
Of President Ronald Reagan, Jordan noted, "I have met him, spoken with him and
I like him. I have a high personal regard for him. We visited each other in the hospital on similar occasions," noted the civil rights leader who, like Reagan, was wounded in an assassination attempt. "The president is a good man, a courageous man, and, on a personal level, a compassionate man. Not since Franklin Delano Roosevelt has America been led by so gifted a communicator. Not since Lyndon Johnson has it been led by so skillful a politician. But not since Herbert Hoover has it been led by a president willing to sacrifice millions of people on the altar of an outmoded ideology."
The president's promise of new ideas and policies are "a recycled version of the trickle down economics and small government Americans rejected 50 years ago, and with good reason." Jordan called Reaganism "an abject failure. It is shocking to see a conservative Republican administration saying budget deficits don't matter," he asserted, while "lifeline programs for the poor" as America engages in an arms build-up. America lacks "constructive leadership, but also constructive opposition," he added.
In remarks that were later aired on the ABC Radio Network, Jordan called complacency "an American hallmark. We tolerated slavery while pretending we were a free country until the lie burst in a Civil War.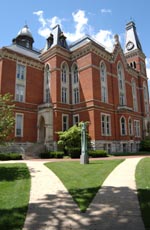 We tolerated segregation while pretending we were a free country until the lie burst in a decade of confrontation and compromise. Now we appear to be complacent about the prospects for survival of our freedoms."
Much of Vernon Jordan's address can be heard in this MP3 audio file:

[Download Audio: "Audio of Vernon Jordan's Speech" - 19,232kb].
Nearly 2,000 alumni are expected to return to campus for Alumni Weekend festivities, which include tomorrow's convocation. That event will feature speeches from Joanna Durham McGaughey '32, representing the 50th reunion class, and Vernon Jordan will provide the silver anniversary reunion remarks for his Class of 1957.
Back