Jeremy Rogalski '93 Wins Second National duPont Award for Investigative Report
December 18, 2007
December 18, 2007, Greencastle, Ind. - Jeremy Rogalski, investigative reporter for Houston's KHOU-TV and 1993 graduate of DePauw University, is a recipient of the 2008 Alfred I. duPont-Columbia Award for excellence in television journalism. Thirteen organizations won the prestigious award from a field of 510 television and radio news entries. Rogalski and the other winners will be honored at the duPont Awards ceremony on January 16, 2008 at Columbia University.
Rogalski and four KHOU colleagues are being recognized for their six-minute investigative report, "Rules of the Game." A description of the entry, based on jurors' comments, states: "This powerful six-minute report is a model of investigative reporting by a local station. It reveals a local loop-hole in one of the basic principles of American justice -- the right of defendants to all evidence againstthem before trial. Reporter Jeremy Rogalski details how the law in some Texas counties, unlike most places in the U.S., allows prosecutors to withhold pre-trial evidence from the defense. The story builds steadily, making a persuasive case about how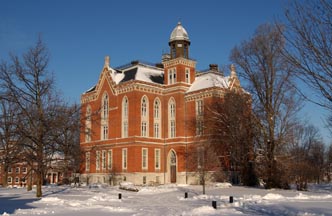 damaging, uneven and unfair this common and perfectly legal practice is. The report reveals how prosecutors withhold evidence in police, eyewitness and lab reports, sometimes resulting in wrongful convictions and long prison terms."
This marks the second duPont Award for Rogalski, who majored in political science and communication at DePauw. He received the first, as well asan Investigative Reporters and Editors Certificate, while working in the investigative unit at WTHR-TV in Indianapolis.
Access an article on the 2008 duPont winners at the Web site of Dallas television station WFAA, and find a complete listing of the award recipients by clicking here.
Back