"Back Story" & Success of Butler Basketball Coach Brad Stevens '99 Spotlighted in Chicago Tribune
December 19, 2007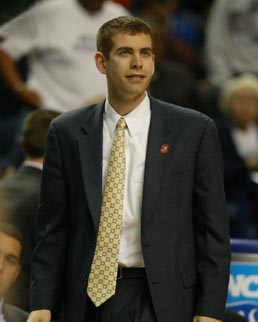 December 19, 2007, Greencastle, Ind. - At age 31, Butler University's Brad Stevens is the "second-youngest Division I coach, and trails a back story as unusual as his team's success is now familiar," writes Skip Myslenski in today's Chicago Tribune. "Graduates in 1999 with a degree in economics from DePauw, where he was a four-year member of the basketball team. Goes to work as a marketing associate at Eli Lilly and Co., where he creates incentive programs for salespeople. Quits the job cold in June 2000 and volunteers to do anything in the Butler basketball office, where he spends three months working for free."
The tale continues, "Plans to make ends meet by waiting tables until Thad Matta, then the Bulldogs' coach, names him director of basketball operations, an administrative post. Gets bumped up to assistant coach the next year by Lickliter, who takes over after Matta departs for Xavier, and there he remains until his recent ascension. That ascension, the results show, has been seamless, which means it was no surprise earlier this month when his veteran Bulldogs toppled Matta's Buckeyes, who are refashioning themselves."
In his first season leading the Bulldog basketball program, Stevens has Butler off to a 9-1 start.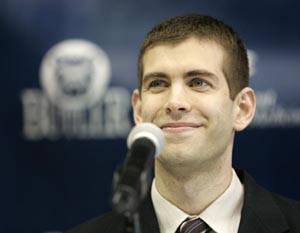 Even though his team has also defeated Florida State and Bob Knight's Texas Tech squad and is ranked #16 nationally, some find it all "stunning," in Myslenski's words. But Stevens, who was a Management Fellow at DePauw, shrugs it off, saying, "you're not playing a league, you're not playing the amount of money they have, you're not playing the traditions of the school. You're playing the team and you only have five guys on the floor at any one time. Even though we look pretty short out there sometimes, that's what we focus on. We just try to do the best we can to match up against each team."
Read the complete article, which previews Butler's game with Bradley University tonight, at the Tribune's Web site.
Learn more about Brad Stevens in this previous story.
Back