Adrian Norris '06 Returns to Campus for Weekend Games as Assistant Coach of Sewanee
April 5, 2008
April 5, 2008, Greencastle, Ind. - "The business world was not for me. I was into coaching. That was for me," says Adrian L. Norris. An article in the Paper of Montgomery County tells of how Norris, a 2006 graduate of DePauw University, "left a job at a mutual fund company in Indianapolis this past July to become an assistant baseball and football coach at Sewanee: The University of the South, an NCAA Division III school in Tennessee."
Writer John Groth (DePauw 2004) points out that Norris followed "his passion (and) calling" in becoming a coach, like his father, who is a coach at Indiana's Crawfordsville High School.
The story notes, "Norris played under DePauw coach and 1995 Crawfordsville High School graduate Matt Walker. He was primarily a catcher and helped lead the Tigers to four 20-plus win seasons and a first-place Southern Collegiate Athletic Conference East finish in 2005. DePauw also recorded a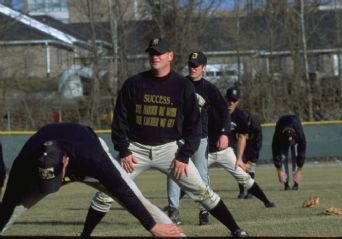 school-record 29 wins that season -- breaking its previous record of 28 set the year before." Norris was a four-year letterman in baseball and was first team All-SCAC his junior and senior years. He was team captain and was All-Tournament his senior year.
When Adrian Norris was playing for Walker, a 1999 graduate of DePauw, the coach detected that Norris could have a future in coaching. Walker explains, "Baseball has so much negativity because of the nature of the game. You've got be a really good handler and manager of each individual. With some guys, you've got to know how to get on them. On other guys, you have to be their friend. Baseball is a different game ... Learning how to manage the negativity, that goes along with playing baseball and knowing how to manage each individual is half the battle. I saw Adrian doing that. It was easy for him to do that because he had so much respect from his peers."

Access the the complete text at the Newspaper's Web site.
DePauw and Sewanee will play a pair of doubleheaders at 1 p.m. Saturday and Sunday. The Tigers are 20-6 and ranked #27 in NCAA Division III. Learn more at the team's online page.
Back