Vault.com CEO Erik Sorenson '77 Observes "Tough Market" for New College Graduates
May 22, 2008
May 22, 2008, Greencastle, Ind. - "It is a tough market out there for new grads right now, especially in the professional services industries such as banking and consulting," says Erik Sorenson, CEO of Vault.com and member of DePauw University's Class of 1977. A survey by his company finds that "students are concerned about finding work in the current economic environment. Of those graduating this year that do not yet have a job offer, 44% say they're very worried about finding employment after graduation, while 42% say they are somewhat worried about getting jobs. Only 14% say they are not worried at all."
Sorenson, the former president of cable network MSNBC, says, "The best thing any job seeker can do is to be as well informed as possible about the industry, the company they're applying to, and the specific skill set required for the job. Doing your research and presenting yourself accordingly is the best way to increase your chances of getting that offer."
Vault is a leading media company focused on careers. A sumary of the firm's survey notes, "The weak economy is resulting in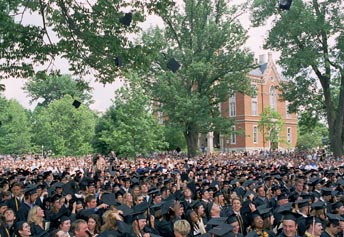 few job offers for new grads; only 50% of those graduating this year say they have received one or more offers; 37% have accepted an offer. One small bright spot: those that do have offers do not seem to be losing them, as just 8% of survey respondents say their offers have been rescinded."
Read more at Yahoo! Finance.
Learn more about Erik Sorenson in this previous story.
Back