Newspaper Features Retiring Prof. Bob Newton and His 52 Years of Teaching at DePauw
May 20, 2008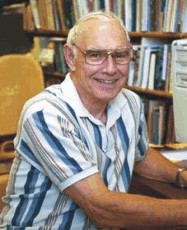 May 20, 2008, Greencastle, Ind. - "A burden will definitely be lifted," says Robert D. Newton, who is retiring as professor of philosophy after teaching 52 years at DePauw University. "But I'll miss talking philosophy with the students. I like to do that," adds Dr. Newton, who is featured in today's edition of Greencastle's Banner-Graphic.
Sunday's 169th commencement marked the final chapter in a DePauw career that began in 1956, Jamie Barrand notes. She writes, "Ken Owen, executive director of media relations at DePauw, said students and faculty would feel Newton's departure. 'He leaves as one of the longest-tenured professors in DePauw's 171-year history,' he said. Jim Rambo, senior professor of modern languages at DePauw, said to his knowledge Newton has served the second longest of any professor at the university."
Dr. Rambo states, "Officially, Henry Longden served for 54 years, but I have not found evidence that he taught during the last four years or so before his retirement. The only other person in this longest-serving category in DePauw's history was Edwin Post, who taught Latin at DePauw for 53 years. Since he seems to have been a full-time teacher for most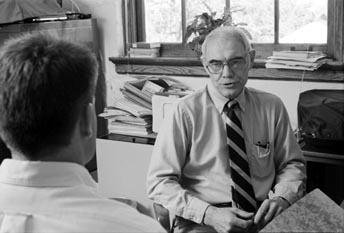 of the time -- even though he served as the university's first librarian -- he is apparently the only person to have actually taught longer than Bob Newton."
World travel is in the plans of Professor Newton and his wife, Ann. He adds with a chuckle, "I'm going to read all the books I would loved to have read, but I had to read students' papers."
Access the complete piece, "Long-tenured DePauw professor retiring in June," at the Banner-Graphic's Web site.
A story posted here Saturday includes audio clips of Bob Newton discussing his long career.
Back