DePauw Community Mourns the Passing of Prof. Stan Irwin
May 31, 2008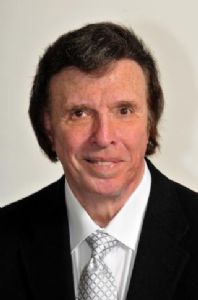 May 31, 2008, Greencastle, Ind. - Stanley R. Irwin, a professor of voice on the DePauw School of Music faculty for 33 years and known worldwide as an acclaimed bass-baritone, passed away this afternoon at Methodist Hospital in Indianapolis. He was 67 years old. Dr. Irwin was critically injured in an auto accident Wednesday in Greenwood, Indiana.
Over the course of his long and distinguished musical career, Irwin performed at the Zürich Opera, Carnegie Hall, Avery Fisher Hall, Barbican Centre, and with major orchestras in the U.S. and Great Britain. As a 1987 winner of the World Wide Voice Competition in New York he was awarded contracts to perform Beethoven's Ninth Symphony at Lincoln Center and, in his 1988 British debut, the Brahms Requiem with the Philharmonia Orchestra of London. Irwin performed five times at Carnegie Hall, twice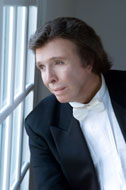 as a recitalist and three times as a conductor.
The New York Times called Irwin, "A performer who can project a wide range of subtle, shifting emotions." Hans Hotter, with whom Irwin studied in Munich, described him as possessing "a bass-baritone voice of high quality in timbre, which he is in good command of," noting a "fine artistic sensitiveness, together with a gift for interpretation ... especially evident in his singing of the German classical Lied."
Irwin joined the DePauw School of Music faculty in 1975. "As a professor, a mentor and a friend, he has impacted many lives at the University," notes DePauw President Robert G. Bottoms. "Our hearts go out to Stan's wife, Jane, and his family, and I express the feelings of a great many in the DePauw
community who interacted with Stan over the years. He brought much respect to our School of Music, one of the oldest in the United States, and his warm presence and many contributions will be greatly missed."
Irwin performed more than two dozen roles in opera, most of the major works in oratorio, and an extensive song repertoire, including roles such as Boris and Germont, the Bach Passions, Elijah, the Verdi Requiem, Britten's War Requiem, Berlioz's dramatic symphony Romeo et Juliette, and Schubert's "Winterreise" and "Müllerin" song cycles. He has also appeared in world premiere performances of John Eaton's Peabody Award-winning opera Myshkin (Keller) for PBS and Italian television, Schibler's The Late Expiation (Marquis) at the Zürich Opera, and David Ott's song cycle "Renascence" (Millay) commissioned for Irwin and the Indianapolis Chamber Orchestra. He has also recorded for the Gothic and Four Winds labels and has been artist-producer of two compact discs of American popular classics, Irwin Sings
Gershwin (1999) and Night & Day: Cole Porter Songs of Romance (2003).
As a conductor, Professor Irwin made numerous high profile appearances at world-renowned sites such as Carnegie Hall with the New England Symphonic Ensemble and Chorus, the White House and the Vatican. He also prepared choirs for performances under such eminent conductors as John Nelson and Sir David Willcocks and orchestras including the Philharmonia of London and the Indianapolis Symphony Orchestra.
Former voice students of Stanley Irwin, the longtime director of the DePauw University Choirs, have appeared with many orchestras and opera companies, including the Lyric Opera of Chicago, New York City Opera, Washington Opera, Opera Quebec, Minnesota Opera, Indianapolis Opera, Florida Grand Opera, and the Glimmerglass Opera.
Each year at DePauw's commencement, Professor Irwin led the audience in singing a hymn at the beginning of the program and A Toast to DePauw at the conclusion of the event. A video clip of the Toast, which concluded the May 18, 2007 ceremonies, can be accessed here:

[Download Video: "A Toast to DePauw - May 2008" - 3312kb]. (photo at left shows Dr. Irwin leading the Toast with President Bottoms and R. David Hoover '67, chair of DePauw's Board of Trustees, joining in the song)
Visitation will take place Thursday, June 5, from 4 to 8 p.m. at Bittles and Hurt Funeral Home. On Friday, June 6, an 11 a.m. memorial service will be held at Gobin Memorial United Methodist Church.
Back