Indianapolis Football Fans Watch as Little Giants Drub DePauw, 34-0
November 20, 1915
November 20, 1915, Indianapolis, Ind. - "The less that is said the better," reports The DePauw of the 1915 DePauw-Wabash football game. Played at Indianapolis' Washington Park, the contest was a one-sided affair, with the Little Giants trouncing the squad from Greencastle, 34-0.
The loss ends DePauw's first season under football coach Ralph Young with a 5-3 record. Wabash closes out with a 7-0-1 mark. The only blemish on the Little Giants' record was a 7-7 tie with Purdue in the opening game.
"The DePauw boys put up a clean game and they fought hard," Wabash's Don Sims said after the final score was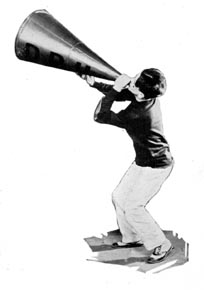 posted. "They showed good coaching and every man worked hard, but the Wabash team was just the stronger of the two. I have never seen a better spirit displayed by a losing college than the DePauw team and students displayed following the game; it's easy to be a good winner but it takes a true sporting spirit to be a good loser."
View a "Monon Memory" of the 1915 clash between DePauw and Wabash -- featuring historic photos -- here:

[Download Video: "1915 Monon Memory" - 2834kb]. A complete roster of the video clips -- written, produced and narrated by 1982 DePauw graduate Ken Owen -- can be accessed by clicking here.
For comprehensive information on one of America's greatest and longest-running college football rivalries -- which in 1932 introduced a 300-pound locomotive bell as its prize -- visit the Monon Bell Web page.
Back