Wabash Paints Old Gold Day Scarlet, 62-0
October 12, 1912
October 12, 1912, Greencastle, Ind. - The annual football battle between DePauw University and Wabash College was not a pretty sight for fans of the home team who gathered at McKeen Field for the Old Gold Day contest. The visitors romped to a 62-0 victory, paced by quarterback Kent "Skeet" Lambert's five touchdowns. At no time during the game did DePauw get within striking distance of the goal line.
Chanting "Hail, hail, the gang's all here," about 150 Wabash rooters marched into the stadium single file for the contest, which began at 2:50 this afternoon. Lambert's heroics, which also included five extra points, overshadowed the three touchdowns scored today by his Little Giants teammate, Raymond Williams.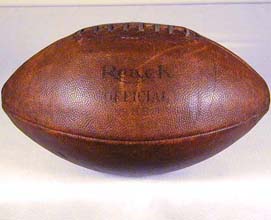 The DePauw gridders are now 0-3 and have yet to score this season after opening shutout losses to Purdue and Indiana universities.
View a "Monon Memory" of the 1912 DePauw-Wabash rivalry game here:

[Download Video: "1912 Monon Memory" - 2314kb]. A complete roster of the video clips -- written, produced and narrated by 1982 DePauw graduate Ken Owen -- can be accessed by clicking here.
For comprehensive information on one of college football's oldest and greatest rivalries -- which in 1932 introduced a 300-pound locomotive bell as the victor's prize -- visit the Monon Bell Web page.
Back