Bishop Raines Talks of 'Crisis and Character' at 110th Commencement
June 12, 1949
June 12, 1949, Greencastle, Ind. - "Will you work for yourself to accumulate as much money, security, popularity or power as possible, or will you work primarily for your world, for the good of your generation?," Reverend Richard C. Raines, bishop of the Methodist Church, Indiana Area, asked DePauw University graduates today. "If you decide that, given one life, you want to make as significant as possible a contribution to your world," then the time to begin charting that course is now, the bishop declared at the University's 110th commencement ceremony.
DePauw University conferred degrees upon 425 seniors -- 22 of whom were graduated from the School of Music -- at this evening's ceremony, which was moved indoors to Bowman Gymnasium because of threatening weather. In addition, eight received the master of arts degree, two the degree of master of music, and six honorary degrees were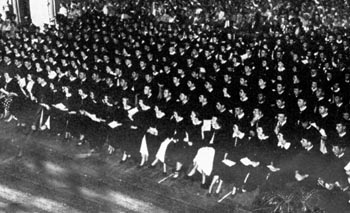 awarded.
In his address, "Crisis and Character," Raines noted, "Seven or more civilizations have in the history of the world disintegrated and gone to pieces. Ours need not follow in their train if enough of us become real persons organized around high ideals, open to adequate sources of power, living on the moral cutting edge, being spiritually aggressive and holding tenaciously to faith that there is a solution, spending ourselves, dedicating ourselves to finding it."
Yesterday, DePauw celebrated its annual Alumni Day. Details can be found in this story.
Back