Joseph Iglehart '02 is 1960 Old Gold Goblet Recipient
May 20, 1960
May 20, 1960, Greencastle, Ind. - Joseph H. Iglehart, a prominent attorney and 1902 graduate of DePauw University, is the choice of DePauw seniors as the outstanding alumnus of the year and recipient of the Old Gold Goblet. The award was presented at the annual Senior-Alumni Dinner, which was attended by nearly 300 seniors, alumni, faculty and staff. (photo: senior class president Dick Havlik awards to 1960 Old Gold Goblet to Inglehart as Alumni Secretary Bob Crouch '27 looks on).
Awarded each year since 1941 by vote of the senior class, the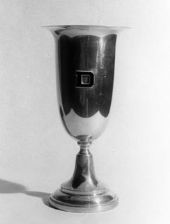 goblet is given for "eminence in life's work and service to alma mater." Inglehart accepted the award with a speech entitled "Thoughts on Liberty and Freedom."
A member of DePauw's Board of Trustees since 1934, Iglehart is the second attorney to win the coveted award in as many years. Last year's recipient was Ralph W. Gwinn '05, a New York lawyer and retired U.S. Congressman.
A graduate of Harvard Law School, Iglehart has been a practicing attorney for more than 50 years and is a partner in the Evansville, Indiana firm of Iglehart and Hewins. Formerly national president of the DePauw Alumni Association, he is also a trustee of Evansville College and the city's Trinity Methodist Church.
Back