Path to Success of Mazzio's CEO Greg Lippert '77 Chronicled in Newspaper
August 4, 2008
August 4, 2008, Greencastle, Ind. - "If you can be the first to do it, you're going to own it," says Greg Lippert, president and CEO of Mazzio's Corporation and 1977 graduate of DePauw University. A feature in today's edition of Oklahoma City's Journal Record focuses on Lippert and his restaurants, which are experimenting with text-message ordering and self-serve kiosks. "Every three to four years, your technology ramps up," he says. "You have to decide to stay on it or you can get behind." (top photo: Rip Stell/Journal Record)
The article begins by noting, "Greg Lippert sees a 'perfect storm' brewing around the nation's dining sector, a confluence of uncontrollable factors starting with high energy prices and extending from surging cheese and flour costs to rising labor costs."
Lippert, who was a communication major at DePauw, tells the newspaper, "We are now competing with international prices. This is a challenge facing the whole restaurant industry. Typically restaurant sales have a direct relationship to consumer confidence, discretionary income. Whole segments of our population are struggling with price-driven needs."
The CEO's company operates 173 Mazzio's Italian Eateries, 64 of which are company-owned, and "now generate average sales of $1.25 million per eatery, more than double where unit sales stood when Lippert joined the firm in 1984," writes Kirby Lee Davis.
The story notes that as a youngster, "Greg developed a love of soccer as well as golf, which led him to DePauw University, a small liberal arts school in Greencastle, Ind. While playing on the university's NCAA varsity soccer team he targeted a career in advertising, working at restaurants and other places to pay his way through school. He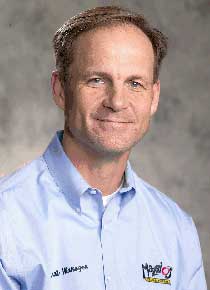 also fell in love with speech pathology major Elizabeth Loupee." They've been married since 1978, the year she graduated from DePauw.
Lippert's career -- which began with a job with Procter and Gamble right out of college and included a lengthy stint at 7Up, where he was vice president of marketing -- is traced in the lengthy profile piece. Lori Waldrich, president of Idea Studio in Tulsa, tells the newspaper of Lippert, "I see him as just an extremely creative and visionary person who is very passionate in a positive way about his ideas. Basically he gets his mind set on something and is extremely diligent on bringing ideas to reality."
Access the complete story at the Journal Record's Web site.
Learn more about Greg Lippert in this previous article.
Back